With fall here in the Twin Cities, we're really into fire pits since they can extend your outdoor season well into the cold weather.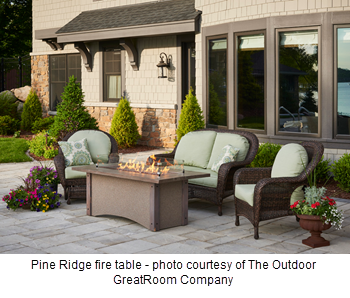 A fire pit works in just about any yard.  It does not matter the size of your outdoor living space – fire pits come in all sizes and work in any outdoor space. They can be dug into the ground or installed on a deck.  You can even get an outdoor dining table with a fire pit in the center.   And for really small spaces, there are tabletop units.
Fire pits come in stone, metal, and many other materials – even glass.  They can be fixed structures or portable units. There are a ton of different options for you to choose from when it comes to outdoor fire pits.
Making your outdoor living space as comfortable as your indoor living spaces should be a priority, and a fire pit can help you do that.
When you are thinking about adding an outdoor fire pit to your yard, there are a few things you should consider.
A Fire Pit Gives Your Backyard a Touch of Warmth and Beauty
Fire pits are not only cozy to sit next to as the sun goes down on those summer nights, they can bring a bit of beauty to an otherwise bland yard. There are endless possibilities when it comes to customizing your own fire pit, which makes it that much more attractive.
Be Aware of Potential Hazards of Outdoor Fires

Although fire pits are attractive and relaxing, as with any heat element, there are risks that a fire can happen outside of the fire pit. Be sure to keep your fire pit clean, free of debris, and properly cared for. Also, keep pets and children away from the fire pit when it is in use. Plus, when you are done using it make sure that the fire is completely extinguished before leaving it unattended.
Enjoy Quality Time in Any Season
We live in a fast paced world. It is no secret that most of us barely have a minute to stop and enjoy the moment. Take time to sit around the fire in any season – from summer to winter – and chat with your friends and of course, do not forget one of the most enjoyable parts of having an open fire – s'mores!  And for those whose free time is short, consider a gas fire pit – the fire is instantaneous, unlike a log fire where you have to coax it into flames.  Plus there's virtually no clean-up with a gas unit.
Using Your Fire Pit Might be Hard at First, But You'll get Used To It

Don't worry if you're struggling with how to use and care for your new fire pit.  Whether you bought your unit at a store or had it custom designed to your liking, you should have gotten some type of instructions on how to use and care for it. Following the instructions exactly will help you master the art of keeping your fire burning bright. If you have a gas fire pit, be sure your tank is kept full. For wood burning pits, keep a stocked pile of wood nearby (but not too close!).
After using it a few times you will start to catch on with what works the best for your pit.
If your yard is missing one of the hottest (literally) landscape design elements, why not call us to talk about an outdoor room with a fire pit as its focus?  We are a licensed MN landscape design and installation contractor, and we've got lots of fire pit options to discuss with you.  Why not check out our Pinterest board for some inspiration, and then let's talk!