Summer's still got a few weeks to run, and the time is right for landscaping projects! If you're like most people you very likely think of summer as the time to play, as many people go on vacation or getaway trips.  But the hot weather that gets most of us out of our homes in the summer months is also a very good  time for patio installation or other kinds of landscape projects that will give you spots to relax right in your own back yard.     With this post we hope to give you a solid checklist of what kinds of landscaping projects would be a good idea during summer.  If you get either or both of these done now, you'll still have time to take advantage of them before winter comes, plus you'll be all prepared for next year's warm weather.   
You Still Have Time to Install These Landscaping Projects This Summer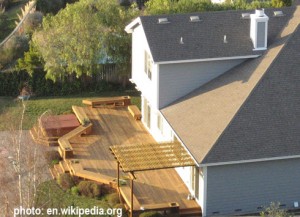 Let's begin with a few basic ideas to consider during the summer months.  Either or both of these will provide a good basis for an outdoor room in your yard.   
Lay a brick or other patio

Install a gazebo

Deck installation (or a makeover if you've got an existing deck)
One of the most popular patio designs right now is the circle.  A circular brick patio room, as we've discussed in an earlier post, can be a lovely place to sit and relax, either for a private moment of serene silence or for a raucous evening of entertaining friends.   There's just something inviting about a circular structure.

As with a brick patio, a gazebo can also be a wonderful summer getaway that won't take you hours to drive to.  Gazebos provide plenty of shade, which makes them great landscaping features for properties that have no natural shade such as trees and shrubs.  Check out our previous post that provides more information on why a gazebo can be such a charming addition to your backyard.
In addition to these two ideas, other landscaping projects that can be done this summer to boost the appeal as well as the function of your yard include installation of:
water features such as a pond or fountain
landscape lighting
MN Summer Yard Care Checklist
Here's checklist featuring ways you can make your Minneapolis or St. Paul area landscape as lovely as it can possibly be.   
Lawn mowing:  keep your grass looking good by mowing when it needs it, but don't cut it too short in these warm months – it can dry out easily and turn brown

Grub and other pest control:  grubs and destroy your plants


Weeding

Shrub pruning (only those shrubs that should be pruned in summer or early fall)


Irrigation and sprinkler system maintenance

Patio, walkway, and driveway edging

Cleaning water features (including your swimming pool)


Check bulbs in your landscape lighting
The possibilities of adding beauty to your landscape or garden are only limited by your own imagination. Architectural Landscape Design can help take you there with these ideas and many more. Get in touch with us today if you'd like to take the first step towards complete the next item on your summer landscaping list! We offer free initial consultations – call us to arrange one: 952-292-7717