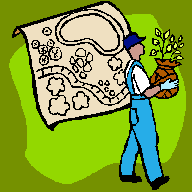 Hopefully we Architectural Landscape Design have provided a number of helpful hints to you on our blog. But perhaps the biggest assistance to be provided to anyone interested in improving the shape their Minnesota landscape and garden is on hiring a good landscaper.
Making the right decision in this area can greatly simplify things. It can also spark your imagination in terms of creating goals for you landscaping.  The first decision?  Whom to hire.
Let's now consider a few specific questions you should be asking yourself when shopping around for just the right landscaper or installation contractor:
What are your needs?
What is you budget?
Who is recommended?
It's always a good idea to have a clear understanding of your needs before seeking the assistance of a landscaping company. How much work are you looking to have done? What kind of design would you like? If you already have answers to these questions, your conversations with a landscaper will be more helpful.
Knowing your budgetary limits is similarly helpful. There are, for example, some situations where your dream garden is simply not feasible. Sometimes comprises must be made, and having a firm budget is a good way of knowing how much you may need to compromise.  Here is a previous post that deals in helpful detail with ways you can work within a budget to arrive at your dream garden.
Getting references is the best way to find a landscaping company that is just right for you. It is helpful to know that they are a legitimate company and to have an idea of how much and what kind of experience they have. More specifically, you should ask for references and any professional affiliations.  We're proud of our Angie's List 2013 Super Service award, and we are members of the Minnesota Nursery & Landscape Association.  We are also accredited by the Better Business Bureau.
Connecting with a reputable Minnesota landscape contractor is the first step in getting your landscaping dreams transformed into reality.  Get in touch with us today to provide more help with designing your dream garden!  For a free consultation, call us at 952.292.7717.