Many homeowners focus their landscaping dollars on their back yards with installation of swimming pools, recreational areas, decks, outdoor kitchens, and other outdoor rooms.  But don't forget about your front yard – it's important to landscape it as well.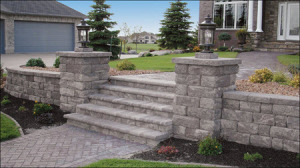 Front Yard Landscaping Tips
There are many secrets to keeping your front yard looking the best that it can. From small to large elements, you can make your yard stand out more.
Dress up the walkway  with a nice path that's bordered by garden beds with flowers on either side.  Adding landscape lighting along the pathway not only helps to be safer after dark but shows it off at night.
Fill the front yard with flowers to make it look like a meadow.  This provides your home with a lot more color than what it would have normally.  Flowers can be in raised beds, landscaped areas around the foundation, or even containers set on your steps or near the walkway.
A front porch or deck for welcoming people and entertaining is an ideal way to say that you're there and ready to receive visitors.
Keep your landscaping natural. Put bird baths and feeders out front and draw in the nature to you, so you're able to provide beauty without having to do much.
Evergreens and other foliage that is green and lush can make your front yard stand out more. It is also able to block out some of the noise from the outside world passing by.  And evergreens mean you'll have that green even in the winter.
Use containers around the front of the home. This provides color around the front of the home. It provides a nice balance when it is needed, and nothing has to be planted in the ground.  Plus you can change things up easily.
Use all of your front yard space wisely when you spruce it up. You want to plant a little something over here, something over there and really make it stand out, even if you have a small space to work with. Make it count, but have it balanced.
Emphasize the entrance to the home. Make it more inviting and welcoming to the guests that come to visit. You want something that draws them in. A cute fence, welcoming pillars, even a small patio can create tht feel.
Put a little drama into the front yard with bold shapes and colors. Make the yard stand out more using these lines, curves and decorative elements.
Use outdoor art that goes with your home's decor.
Have a custom-made water feature that you can place in the front yard for a unique touch.
However you choose to make your front yard stand out, speak with us here at Architectural Landscape Design first.  We are able to create a design by working with you and incorporating your visions. This design can be all your own; it can really make your home stand out and be one of a kind. And then when the spring time rolls around, we can then make it happen with landscaping installation.  If you need some inspiration before we talk, visit our Pinterest board, Front Yard Landscaping.
Architectural Landscape Design, Inc. is a licensed MN landscape design and installation contractor.  We serve the entire Minneapolis and St. Paul metro area, as well as the surrounding communities, including Western Wisconsin.