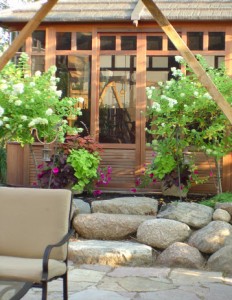 If you want to create a cozy spot in your yard that's all your own, then think about adding hardscapes to it.
While many people associate hardscaping with flat surfaces such as patios and walkways, in reality a hardscape is any nonliving structure placed in a landscape.  These can include small decorative structures that are placed strategically throughout your yard. They can be garden sculptures, gazebos, benches, fountains, bridges or anything else that catches your eye.  Hardscapes may also include paved pathways, brick patios, retaining walls, or even rock gardens. These types of elements give your overall landscape look a personalized, finished look. You can choose from many different materials such as wood, metal, stone, or even plastic. So what difference does it make with the material that you choose?
Common Hardscaping Materials
Reinforced Plastic: These products are inexpensive compared to other types of materials and you can find a wide range of products to add to the garden. Everything from benches to arches are made from reinforced plastic. You do not need a foundation to use these products either, so you can just place them down and choose the best color for the area.
Metal:  This is a strong material and can give the garden a different look. It is lightweight for all of the things you'd like to add to the garden such as an arch or pergola. You're able to paint it any color that you'd like and then add the foliage around it. Having bright colors can make it stand out even more than it does.  But you can even leave it as is – some homeowners prefer the rustic look of unfinished metal.
Natural Stone:  These products are long lasting and beautiful. They do cost more but can be well worth it if you want your own unique look in the garden. You also do not have to worry about the weather ruining the elements of your landscaping when you use natural stone products.
Wood:  This is a harmonious addition to make in the garden.  If you've already got trees on your lot, wood accents are a natural fit.  Wood works for everything from fences to gazebos to bridges.  You can leave it to weather or stain it. You can also paint it to the color that you would like.
Concrete: These products can be inexpensive to add to the look of the garden. You can use it for stairs, columns, fences and so on. Stamped concrete pavers are available for pathways, driveways, and walkways.  Perhaps you'd like a durable seating solution – concrete is perfect.  Not only that but it is great with weather and it is environmentally friendly as well.
If you're considering hardscapes in your yard, speak with us here at Architectural Landscape Design to find out how you're able to get what is needed, when it is needed.  We are a MN landscape contractor and we specialize in turning landscape dreams into reality.  For a free consultation, call today – 952.292.7717.   Serving the entire Minneapolis St. Paul metro area, including outlying communities such as Prior Lake, Eden Prairie, and Savage.