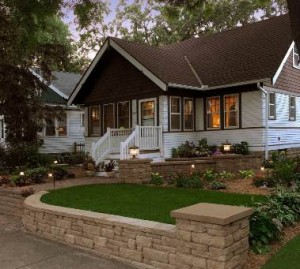 Details are a big part of any project. You could have a design, you could put it all together, but without your own unique finishing touches, it is not going to look as good as it can. This is true for both the inside and the outside of the home but mostly for the front of your home.  Landscape design often focuses on the backyard, but the front of the house shouldn't be overlooked.  This is what everyone sees and what should say, 'Welcome' to them when they first walk up.
Your Mailbox – Why have the same mailbox as everyone else? You could have something a bit different that says it all. Make it an elegant mailbox made of wrought iron or an inset box inside a stone pillar. Add something different, something unique to make your home all your own. Plant colorful flowers down below it to welcome your mailman to your home.
Home Numbers – These can say it all when people come up to your home. You can even order custom made numbers that show character, class and even personalization. They can match the home that you own and even go with the landscape theme out front. There are many options to choose from.
Fountains for Dogs – Not just dogs either, but birds and cats and any other wildlife that may want a bit of water to drink. You can add a stone or marble fountain for those animals to come and have a great time. If someone is walking their dog nearby, why not let their dog quench their thirst. They will be sure to say thank you.
Water Features – A custom water feature can say it all when it comes to the front yard. There are many styles and sizes to choose from. You can find something that matches your home. At ALD, we are able to custom design a water feature that fits the outside of your home and your style to provide something that is uniquely all you.
The Front Door – The front door of your home should make a statement of some kind. It could be a different color that meshes well with the rest of the home or even a fancy door with windows. There are many options that make your home stand out from all the rest on the block – all by just changing the front door to the home.  Consider adding lighting or other touches surrounding your stairway to make your visitors feel welcome.
Bird Houses – Bring a little wild life into your yard by building little houses for the birds and other small animals that come in. You're able to add seed and other extras for them to enjoy while you just enjoy watching them and their color and life.
Garden Art – Adding some garden art can bring a little color and life into the front yard. It also is a welcoming aspect and definitely a point of interest for some that walk by. You're able to find gazing balls and small statues that can provide more to the garden then what was there before.
Architectural Landscape Design is able to help you with any front or back yard landscaping that you need to have done. We are able to custom match a design to your home and style. Make your home stand out from all the rest with a little help from us.  Give us a call today and take that first step to making your front yard uniquely you!