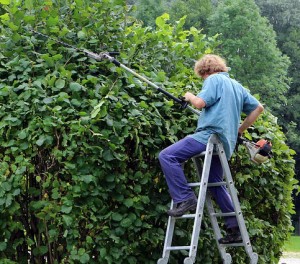 Cooler nights in the Minneapolis and St. Paul MN area are a reminder that winter's on its way.  When it comes to dealing with the cold weather, you have to make sure that your landscape is able to take on what it brings. This means preparing the landscape by pruning and winterizing it. Here are some of the recommendations for pruning your trees, shrubs and perennials and making sure they are ready when the cold weather comes knocking. Fall is the best time to get these things done; then you can relax during the winter until spring time rolls around, which is when you should do it again.
Do You Have the Correct Pruning Tools?

Make sure you choose the right tools for the job. You need sharp pruning shears for smaller branches, loppers for the medium-sized branches and saws for any large branches. You do not want to crush the wood when you're trying to cut it. Make sure to hand prune in the areas that are tight to get into. Make sure that you're careful, since all of these tools are sharp!
Winter Pruning?
While fall is the optimum pruning time for many plants, you can wait until winter for some.  Winter pruning for many species can be done in February and March. This is when the plants are dormant. Make sure to sterilize any equipment that you will be using to prevent disease and cut cleanly.
Pruning Early Spring Flowering Plants
These plants, such as lilacs,  should be stripped of their flower buds and pruned back. You want to make sure that you remove any dead wood during this time, as well. It will improve the look of the plant and ensure that it continues to grow when next spring rolls around.
Tips for Pruning Fruit Trees and Shrubs
Enhance the way your trees and shrubs bear fruit by making sure to prune them. You want to remove one third of the old canes on berry bushes. You want to also thin out the branches of fruit trees to reduce the chances for premature fruit drop.  Pay particular attention to dead branches – removing them cleanly now could prevent winter damage.
There are some plants such as hydrangeas that have very specific pruning needs, so it's a good idea to check with your local nursery or landscaping company regarding the shrubs and trees you have.  If pruning isn't something you have the time or the inclination to take on right now, it's important to get the help of a professional so your landscaping is in great shape for winter.
This is a great time for your landscaping to get a makeover if caring for your yard is taking up too much of your time.  We can help you can design a whole new look for the yard that you have with the right specialists behind you. Speak with us here at Architectural Landscape Design to get more information. Check out our landscape design ideas on our Pinterest page for more inspiration.  And then give us a call for a free in-home initial consultation.  Now is a great time to get the jump on spring!