Looking for a 'hot' idea for your yard this year?  One trend that's become a well-established landscaping element is the fire pit. 
People have enjoyed gathering around a fire for millennia, and we're no different today. That's not the only reason to add a fire pit to your outdoor living space.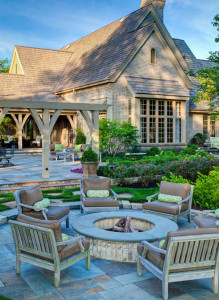 Fire is a Great Focal Point
There's nothing quite like sitting with friends as the sun sets and watching the flicker of flame as the conversation flows. A fire pit offers a focal point for any gathering, while still providing a safe place to gather.
A Fire Pit Enhances Relaxation
There are few things more relaxing than watching the flicker of a campfire. Fire pits offer that comfort in your own back yard, in addition to the warmth to counter cool spring and autumn nights. They also enhance the clear night sky by offering a little extra heat as you and your guests gaze at the stars.
Fire Pits Are Easily Customized

Everyone wants their homes to reflect their personalities and for all elements to match a certain theme. Your fire pit should be no different, and it doesn't have to be. Fire pits are very versatile, because they can be custom made to match any hardscaping.  And they are available in so many different types, from small tabletop models to large bar-height dining tables – in round, square, and rectangular shapes.
In addition to one-of-a-kind, custom crafted units, fire pit kits are also available.  They can also be made with natural stone or concrete, depending entirely on your needs and tastes.  And fire pits are available that burn gas, gel, charcoal, or wood.  There's something for everyone, whatever your preference.  For a taste of what's available, check out our Pinterest Outdoor Fire Element Ideas board.  In addition to fire pits, you can also opt for an outdoor fireplace or a fire table.
Installing a fire pit in your backyard is an amazing way to enhance the warmth of any outdoor living space while bringing friends and family together. Give us a call at our Minneapolis landscape design company and we can help you determine the perfect fire pit option for your home.