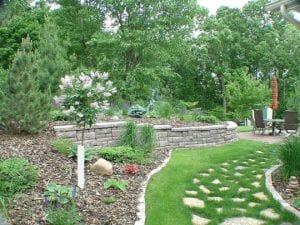 If you're like millions of other Minnesotans, your yard is one of your favorite places to spend downtime, and since the seasons often determine how much time we can enjoy our outdoor spaces, spring and summer are the most popular times to beauty of right outside of our homes. Essentially, anyone can do landscaping, but it takes the right landscaping contractor to get the job done right. You may have a neighbor who likes to get her hands dirty or see ads on Craigslist for someone offering to do yard work for extra cash, but hiring a professional landscape contractor is important and comes with numerous benefits:
A Job Done Right the First Time
Many homeowners like to save money when it comes to yard work and other outdoor maintenance, and while it's natural to want to save a few bucks, you may be costing yourself more money in the long run. Not always, but inexpensive work often leads to dissatisfied customers and a less than satisfactory result, requiring the need for someone else to be hired to fix or redo the whole project.
The Cost is Worth It
Even if a professional landscape contractor may cost a little more than the random novice who places an ad online, you can be assured that the landscaping job (regardless of the size) will be done right, the first time.
Plans are Important
There's a big difference between your quick sketch of what you'd like your next landscaping project to look like and what a professional landscape contractor creates. Although your ideas and sketches are important to seeing the bigger picture and the final product, a professional knows how to plan and which elements may or may not work on your property.
Landscape Contractors Have the Right Tools
Every homeowner can benefit from having some of the basic yard tools like a shovel or a rake, but most landscaping projects require tools and equipment that most homeowners may not have stored in their garage. When you hire a novice or even attempt a DIY landscaping project, you may find yourself spending more money and time on tracking down the right tools. Fortunately, professional landscape contractors have all the tools for the job and know how to use them.
Years of Experience
Like most everything, having experience is advantageous. It's not likely that you would hire an electrician who had only done a one or two jobs before working on your home; you should treat hiring a landscaper the same way. While everyone needs to start somewhere, and some landscapers have a natural talent when starting out, experience is beneficial, especially since you are paying for the services. Some professional landscape contractors have a degree in Horticulture, while others started have gained experience over the years. It's up to you what type of background matters, but experience is a plus.
Knowledge
Along with years of experience comes an abundance of knowledge, which is important for obvious reasons. First of all, a professional landscape contractor will know what types of plants thrive in Minnesota and which ones do not. He or she will also know if your landscaping "vision" will work for your space by taking a look at certain factors such as soil, sunlight, and shade.
Honesty
A true professional has too much riding on his or her reputation, to be dishonest with you. Besides, if he or she truly loves the art of landscaping, success is seen in the finished product, meaning that your landscaping will be a work of art, not just a hurried and disorganized project. Unlike someone who is willing to do a little yard work just to make a few extra bucks, a professional landscape contractor will tell you whether or not something will work for your property and how it will look. Even if he or she turns down your ideas, you're better off having professional feedback and critiques than none at all.
Offers a Variety of Services
If you don't know much about landscaping, you may just think that landscapers put up retaining walls, nice edging around a flower garden, and some basic yard maintenance. On the contrary, a professional landscape contractor is knowledgeable in many areas and as a result can offer a variety of services from water features and outdoor fireplaces to irrigation systems and a backyard pool.
With spring just around the corner, it's time to hire a professional landscape contractor and bring your landscaping visions to life.