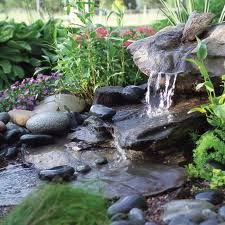 We know it's cold and frozen out there, but it's not to early to start thinking about your landscape and dreaming up some additions for next spring.  In fact, for those who love gardening and working in their yards, that's one satisfying pursuit in the winter.  So gather the seed and nursery catalogs and check out some photo-heavy books from the library, and see if you come up with some inspiration.
A unique element you may want to consider is some sort of water feature.  Water  of just about any sort can make your yard an enchanting place. Water features range from the simple to the elaborate in birdbaths, water fountains, streams, waterfalls, reflection ponds, swimming pools, and bubblers. They can be simple or complex, small or large. Best of all, they can be sized to the space and desires of the homeowner.
The cost of a water feature costs can be a minimal or significant, amount of money depending what you choose  Every garden can have water, ranging from a fountain to a swimming pool. What is common is that water offers plants and trees an interesting backdrop. Water can be glass-like reflecting the clouds in the sky or rippled with the breezes and sparkling. The sound of water is both mesmerizing and relaxing. It also provides a cooling feeling on a hot day.
Interesting fountains or objects to be used for fountains can be found in garden centers, antique stores, architectural salvage centers or created through carved stone and concrete. Water ponds also offer the opportunity to be a reflecting pond or one full of koi fish and all types of aquatic plants including lilies, cannas and ferns.
A waterfall can add vertical movement when the water spews from the top of a boulder wall or retaining wall cascading down through several pools of water or straight down into a reservoir.  Or it can continue through a stream to a reservoir. Than the water can be recirculated.
Wildlife attraction is one of the prime benefits as butterflies, birds, frogs, dragonflies, and of course squirrels and rabbits visit the water.  An added benefit of many ponds and fountains is the sound of water from the pump or a bubbler.  The gentle soothing sound can block out the noise of the street and traffic, neighbors etc.
Water features add magic to the garden, no matter what they are.  If you're wondering how a water element such as a reflecting pond, fountain, or other water structure might work into your landscape, please give us a call.