Choosing to convert your outdoor patio to an outdoor living space can be a great way to expand and have a place to socialize when the weather is nice. You may feel like you do not have the room or even the yard for this type of project, but it is not true. There are many ways to expand upon the existing space you have to create that outdoor living space you want. While working with our MN landscape design company, you should focus on some key elements.
A Fire Source: This should be a big thing on the list.  Adding a fire pit to your Minneapolis yard provides a place to entice guests to gather.  It warms the area, calms friends and family, and creates that socialization that you wanted out of your yard space. There are numerous firepits in Minneapolis that you can choose from based on the size of your yard.
Water Features: Not only are water features beautiful, but they can provide a serene look and sound unlike any other. With a small space, our MN landscape design company can custom-make a water fountain unique to your area. If you have a larger area to work with a pond, stream, or pool with a running waterfall can provide the serene atmosphere.
Outdoor Kitchen Area: MN outdoor kitchens provide everything you need to entertain and cook award winning meals. Adding just a grill can be a large improvement on the deck space, but with a larger area having a whole kitchen can be even better.
Landscape Design Tailored To You and Your Home: The landscape should say it all about your home. As a MN landscaping design company, we will draw up a design that fits your area as well as your tastes. We will bring the good out and push back the bed to make the area somewhere you want to be and somewhere you want to invite guests over to. Some aspects of landscape design:  adding color to the area, blocking off noise, and creating more privacy.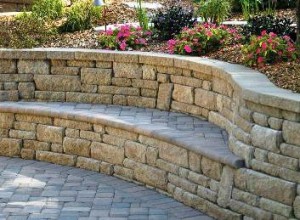 Seating For Outdoor Living: Outdoor living spaces are usually created to bring together friends and family. However, having them over means you have to have somewhere for them to sit. By installing a seating area you're allowing them to have a comfortable place to sit during their stay. Sofas, stuffed chairs, benches, and so on are available. Check out our custom stone furniture for something unique.  And stone benches or niches in retaining walls provide visual interest as well as additional spots to rest.
When it comes to any type of addition you'd like to make to your Minneapolis outdoor living space, you can give us a call here at Architectural Landscape Design to learn more about what we can offer. Each of our designs is unique, and we strive to provide the best service to each of our clients. Turn your patio or yard into an inviting outdoor living space to entertain with our help.