Does your beautiful landscape fade into obscurity when the sun sets?  Are there areas of your yard you enjoy during the day but wish you could spend time in after dark?  Perhaps lack of light is a safety issue arounds steps, decks, or sidewalks.  Worried about possible intruders?  Low-voltage landscape lighting could be the answer to all of these, and more.
Unlike harsh exterior flood lights, low-voltage lighting provides a soft glow, and it can be strategically placed to cast light on whatever features you care to illuminate.  Perhaps your front yard has a stately old tree or a flowering shrub that is a natural work of art.  Lights placed at the base which are directed upward can highlight it and provide your landscape with an area of interest even when it's dark.  Lights can also be placed up high on the trees to resemble moonlight flooding down.
Perhaps the feature you'd really like to highlight is the architectural beauty of your home itself.  Ground-based floods can provide an upward wash of light which directs the eye to the details you'd like to showcase.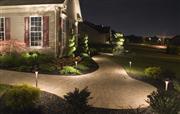 Staked lights beside your walking paths and stairs make walking at night safer as well as inviting.  Under-stair lighting on deck stairs or at the base of deck posts is also a safety feature, and it can make your deck an inviting place to gather at night.   Gazebos and pergolas are also good places to install outdoor lighting.  Low-voltage lighting provides an inviting ambiance and can make nighttime in your yard a time to look forward to.
There is a wide variety of options available.  Whether your preference is for a light source that's almost undetectable, or you'd prefer staked light canopies that are decorative landscape accents,   If you'd like to light up the night at your house, give us a call to discuss how we can help you bring your nighttime visions "to light"!