Are you bored with your yard?  If you are considering new landscaping installation in the greater Minneapolis area, this post will give you a good idea of what kinds of new trends are heating up Minnesota this summer.    Trends may change a great deal over time, but, as the following ideas will illustrate, it's always a good idea to keep the big picture in mind when making changes to your landscape or garden. (This is particularly crucial when we touch on the topic of environmentally sound landscaping later).

Here are the landscaping trends we'll cover in this post:
The outdoor chef

Contemporary design


Environmentally sound landscaping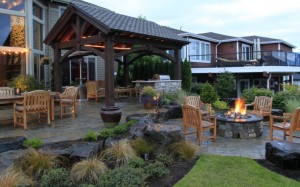 With the harsh Minnesota winter now behind us, the idea of doing as many things outdoor as possible sounds great. For many outdoor chefs, cooking is the first on the list. Having a built-in grill is a good start, but you can expand on your outdoor kitchen by adding such amenities as a sink, a refrigerator, a side burner and a pizza oven. It is recommended that you run a gas line so you won't have to interrupt the party to dash inside for propane. The design and function possibilities are almost endless.  Outdoor kitchens can be combined with a fire pit or a poolside cabana, and some homeowners are even installing media perks such as TVs and sound systems.  Need some inspiration? Here is a link to Architectural Landscape Design's Pinterest page on outdoor kitchens.

Up-to-date modern design is one of the hot looks in landscaping for this summer.  For a contemporary look to work, the key is to make sure the design fits your home and the existing elements you're hoping to work with. Contacting a landscaping professional is always a good idea when seeking to keep up with the latest designs.   You want your landscaping and your home to look coordinated; outdoor living areas should flow naturally from the house to the yard, and the experienced eye of a professional landscape designer can help you seamlessly integrate all the elements you'd like.

The decision to go green is understandably attractive these days. And of course it would be helpful to familiarize yourself with the environmental impact of certain products used on your landscape. For example, a rain water catchment system is a great way to combat the problem of runoff. Rain gardens are also quite helpful in this regard.   We also recommend planting native grasses and other plants as they require much less care and little in terms of water and fertilizer, and that's a plus for our local environment, in addition to less yard care chores for you.

 Among the many ways Architectural Landscape Design can bring landscape trends into reality for you is the design and installation of outdoor kitchens. To contact our landscape designer for a free consultation, get in touch today!   We 952.292.7717.  We are a Minneapolis MN landscape contractor, and we serve the entire Twin Cities metro area and surrounding communities.