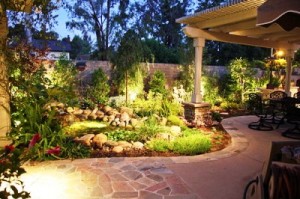 There are many elements to outdoor spaces, as discussed previously, and outdoor lighting is just one of the many aspects which work together to create an overall landscape picture. In our previous post we discussed different considerations when planning landscape lighting.  There are also some other things to consider when it comes to illuminating the outdoor space that you have. If you're confused on which ones might work with the space around your home, our landscape designers can give you their insight on what would work the best.
Choosing the voltage for the lighting is important ,and you should know the different types of available such as line voltage or low voltage. Low voltage seems to be the winner in a lot of homes throughout the Minnesota area since these light fixtures are more energy saving.  Low-voltage lighting is the system we recommend for most homes.  Here are other things to consider.

Fixtures.   Make sure they are able to withstand weather elements and not break.  Finding attractive fixtures that are durable and heavy-duty can be challenging, but we can recommend brands that are high quality, durable, and able to stand up to just about any Minnesota weather conditions.
Type of bulb. LED and Incandescent bulbs are both on the market. However, LED is a more energy efficient way to go. There is less changing of light bulbs and no worries of the bulbs breaking or dying out.  There are different types of LED bulbs out there so you should be aware of what each one of them provides.

You can speak to ALD about our recommendations when it comes to getting a high quality LED low voltage lighting system installed to ensure that you have something top of the line and high quality for the outdoor lighting results that you're after. We're here to help you choose the lighting, install it, and ensure that it works with the landscape design and home that you have , as well as handle regular maintenance if you'd like that as well. Landscape lighting should look beautiful, and we're here to help. Contact us today for more information on how low voltage outdoor lighting can enhance your yard.