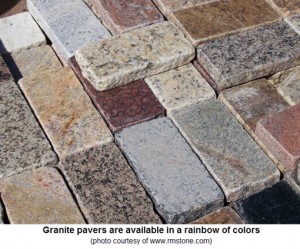 Looking for a durable yet beautiful material for your patio or walkway?  Granite is a beautiful, all-natural stone that has been used throughout many years and is one of the most popular choices for outdoor projects. They are durable and beautiful, wherever you choose to place them. Granite provides the durability that you're looking for on any outdoor area that other materials such as concrete and brick are not able to stand up too. Here are the different types of granite pavers that are available.
Types of Granite Pavers
Chopped Cobbles:  This is one of the most common materials that is used,  because it is one of the most affordable. The chopped cobbles come in cubes and rectangular-like shapes. They are strong but do not provide an even surface where they are placed.
Sawn Granite Pavers:  In order to avoid the problems from chipped or stab-sawn pavers, consider these stones. They have smoother edges than the other materials. They do have a higher price than the other options, however. Sawn granite pavers provide a surface smooth enough to walk along without shoes on as well as a beautiful appearance.
Stab-Sawn Granite Setts:  A sett is similiar to a cobblestone.  Granite setts are very strong; in fact, they are used in Europe for roadways.  They have rougher sides than sawn pavers, with a sawn upper and lower area. This is a comfortable area to walk on, even if the setts do not go tightly together and might have some open spaces in between. They are also available as sawn on the sides, with the upper and lower areas chopped so they can fit well together.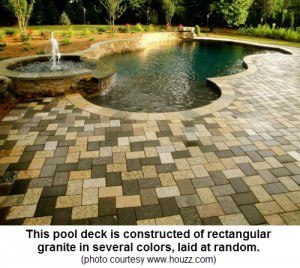 Colored and Curly Pavers:  Curly pavers are popular because of how they look when pieced together. They create a wonderful area for the owner to enjoy. There are also many color options on the market so you can mix and match or match it to the home that you own. You can also create unique patterns and designs with them, but the cost for installation as well as the pavers are more costly than the other options.  Curly pavers come in a variety of shapes such as scalloped, interlocking, and free-form.
Granite Sifting:  Granite sifting is also known as granite grit or crushed granite.  It can be used anywhere you would place pea gravel or crushed rock.  Because it is poured rather than laid, the design options are more flexible.  This allows for more of a free-form, less structured pathway.  Curbs should be used on both sides of the path since the gravel can unravel and lose shape over time. Granite sifting does have a lower cost than the pavers, andit can  also provide a beautiful appeal to the yard.  Granite sifting can be used for rock garden beds as well as for mulching, but there must be some sort of edging to contain the loose gravel so it does not wash out into other areas.
Here at Architectural Landscape Design, we are able to create a beautiful path around your home, as well as other hardscaping such as patios and driveways.  Granite is just one of the many options available.  Check out our Pinterest board on Walkway and Driveway Ideas for some inspiration!
We are a licensed Minneapolis MN area landscaping design and installation contractor.  If it's time to add some beauty to your yard and cut down on your outdoor maintenance by replacing some of your lawn with hardscaping, give us a call for a free consultation.  952.292.7717.