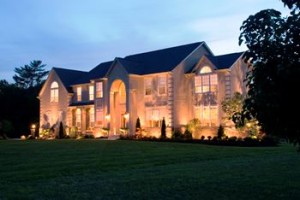 There are many things that you might worry about around your home once that sun goes down such as leaving your house unoccupied, going inside because it is dark,or  not being able to see up your driveway. The good news is that you can light up these areas to make it easier. Lighting can do so much for the outside of your home while also dissipating your worry. It can provide beauty, allow you to enjoy the outdoors, and keep your home safe while you're away.  Often homeowners are concerned about the costs of having exterior lighting installed, when in fact it can be very affordable.  And maintenance is minimal. There are many benefits to getting lighting installed outside of your home.
Expand the spaces outside using lighting since you're able to entertain more when the area is illuminated. Light up the outside like you would like up the inside.
Lighting allows you to enjoy food over the grill, talk over a fire, entertain guests, and so much more without having to go back inside once the sun sets. The lighting can also be subtle so it does not attract bugs like an inside light would.  Low voltage landscape lighting isn't harsh; it omits a soft, welcoming glow.
By adding lights in the right places, you can ultimately make your outdoor space look much larger and push the  boundaries back more.
On the colder nights throughout the year, lights placed around trees illuminate them and make them look larger and highlight their structures. This makes the landscape stand out much more, even in winter when the trees are bare.
Add more security to your home with lighting. Intruders generally avoid yards lit up at night. The lights can come with a timer so they are set on at a certain time if you're not going to be home.  This provides security as well as beauty.
Keep safe while going up stairs when you add lighting. This allows you to see where you're going when you come home in the dark. Path lighting can lead any guests to your home as well without having to worry about them tripping over anything. Place lighting under the steps to add beauty to your stairs as well as safety.
Find out more about adding lighting to the landscape that you have , as well as finding out even more benefits that can come with having this type of lighting installed in your yard.  ALD is an outdoor lighting contractor serving the Minneapolis/St. Paul metro area.