If you're looking for an accent for your yard's landscaping that's straight from Mother Nature, why not add natural stone?  Using rocks and stones in your landscaping can add a natural appeal that not only works with the rest of the yard, but is beautiful just the same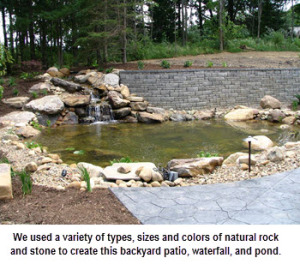 .
We love working rocks and stones of all sizes into our landscape designs for many reasons.  Rocks are one-of-a-kind; each one is slightly different.  By providing your landscape with a touch of something natural but still unique, you're making the most of what you can truly get out of it.  They're also maintenance-free – no weeding, no bulbs to change, nothing to clean – just rugged beauty to enjoy.
Here are some tips to use when considering adding rocks and stones throughout the landscaping around your home.
Incorporate many different rock and boulder sizes to create a natural look overall.  Just as nature does, you want to mix the big with the small, and mix in a few medium-sized ones to make it look natural and not so artificially arranged.
Rocks can be used to camouflage elements in your yard.  For instance, you can create a cute little cave for your dog by placing the rocks around and over the house. This will give the dog a home that blends in with the rest of the landscape around the home.  Larger boulders can conceal things like A/C units and utility meters as well.
Use rocks to create walls around the other features throughout your yard such as on fountains, or around fire pits. These walls will give the items a rustic appeal, while also looking like the piece of furniture is a natural part of the landscape.
Create a rock garden in those sloping areas that need a little bit more look appeal. You just dig a bit deeper and wider than the rock and place it in the hole. From there, you're able to place the dirt around it and have it stay in place, while creating a new, beautiful look.
Choose large, smooth-topped boulders to create places to sit and relax. These are comfortable, work with the scenery and create a zen-like appeal throughout the landscaping.  Large rocks are our favorite natural seating to use around rustic fire pit areas.
Make sure to keep gaps around the stones and boulders that you place throughout the landscaping. These areas will allow for plants and other vegetation to grow so that the rocks look more like they were naturally placed there.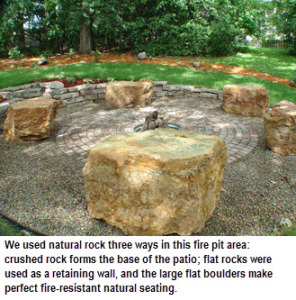 Whatever rock and stone design you choose to go with for the look of your landscape, get the advice and installation from a professional. Architectural Landscape Design, the MN landscape design company, is able to help you design your yard using rock features and then help you install them.  Why not call us today for a free initial design consultation to find out how your yard can really 'rock' with natural stone!
Architectural Landscape Design is a licensed MN landscaping contractor, and we serve the entire Minneapolis and St. Paul metro area, as well as surrounding Minnesota and western Wisconsin communities.