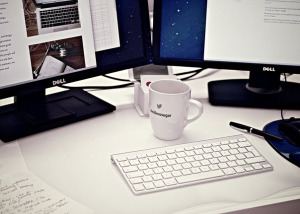 Have you got a refund coming from the IRS this year?  Tax refunds are an exciting thing to get this season, and when it comes to how to spend yours, you probably have a few ideas. You could blow it on that island getaway you've been dreaming about, but why not invest it in something that will last?  Putting your tax refund into improving your home is a wise move.  Whether it goes to that new remodel inside, those Energy Star appliances you've had your eye on, or a landscaping project, when you use your tax refund in this way you're getting double for your money – increased value in your home, plus something you'll enjoy as well.
Using your tax refund is more than just buying something. You're investing your money into something that is going to give back in the near future. You want to enjoy the area that you put your money into, but you also want to make sure that you're getting something worthwhile. Home improvements are a great way to use your extra cash, while also enjoying that purchase for many years to come.
Home improvements shouldn't just be limited to your house itself.  There are many things you can add to your yard that are good investments, too.  Some ideas that you can use to your advantage when designing and planning that outdoor area include:
Beautiful sitting areas
An outdoor kitchen complete with everything you need to cook, entertain, and dine outdoors
Fire pits that are specially chosen to complement your home
Water features like mini-waterfalls, fountains, or ponds
Building a deck
Raised garden beds
Pergolas, gazebos, or other coverings
Outdoor lighting that sets the mood as well as adds safety
Spas and pools to enjoy
There are really so many choices, styles and looks you can go with. If you have an idea of what you want, but do not know how the landscape design might work in your backyard, speak with us here at Architectural Landscape Design. We are a licensed landscape design and installation contractor for the MN area. We can help you get much more out of your tax refund than you originally thought possible.
At Architectural Landscape Design, we are able to provide you not only with the design, but with the installation you're in need of when it comes to changing the look and feel of your backyard and home. Really stand out when it comes to purchasing more this tax season for your backyard, and invite your friends and family over to enjoy the new outdoor space with you.  For some inspiration, check out what we've got posted on Pinterest.