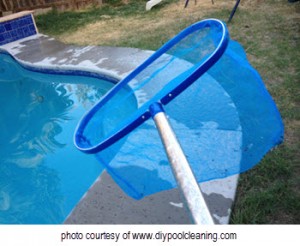 Warm weather's here – and that pool of yours is probably looking inviting.  Have you got it prepped for this season's use?
When it comes to the summer and having the maximum use of your pool, you need to make sure that it is ready to go now.  Owning a pool gives you lots of entertainment, relaxation, and enjoyment right at home, but it also means a lot of responsibility on your end because it requires care and maintenance in order to keep it in working order. Make sure to keep yours in the best condition possible by following some simple steps along the way.
Cleaning Your Pool

Regular skimming is a must.  When it comes to skimming it clean, this can take just a little while of your time and make a huge difference. You do not want the items that are floating at the top to sink to the bottom of the pool. That requires bottom vacuuming – more time and effort.   You will need to vacuum the pool anyway when you first open it for the season, but the more you get off the top, the less you have to clean the bottom. Make sure to brush down the sides of the pool as well before vacuuming since you can removing some of the built-up muck from the pool sitting all winter long.
Balancing Pool Chemicals
You need to make sure that the pH of the pool is constant and steady. Test this using strips. If the water is too alkaline or acidic, it is not safe to be swimming in. You want to ensure that you use the [proper chemicals as well, since you want to rid the water of any bacteria that can be harmful to those in the pool. Chlorine is another important aspect of taking care of your pool. Too much or too little can be either irritating or ineffective, so make sure to follow label directions to ensure you're adding the right amount.
Clean Your Pool Filter
Make sure the filter is back-washed to remove debris and dirt from outside of it. You want to then clean out the inside fully and make sure that the filter is ready to go. Purchasing a new one might also be essential, depending on the last time that it was replaced. Only clean the filter when necessary as well, since cleaning it too much can make it ineffective.
Keep Water Level Up

You want to keep the level of water high at all times. It can evaporate over time, especially when the weather is warm outside. You need to make sure to add the water throughout the summer to keep it where it should be. Using a hose right on the side can be effective at filling it.
Visually Inspect the Area

Make sure that there is nothing dangerous around your pool. Check the safety fence and the gate latch to make sure they're working properly.  Check the ground for sharp items, and inspect the pool decking for areas that may need repair.
Prepping your pool each summer and then maintaining it is extremely important to help you get the maximum enjoyment out of it.  To enjoy your pool area even more perhaps adding a beautiful patio or poolside landscaping around it can beautify it even more. This can allow you to sit back and actually enjoy using the pool and its surroundings after all the maintaining is done on it.  We are a licensed MN landscape contractor, and we offer pool design and installation as well as other landscaping services.  If it's time to add more to the look of your pool, give us a call today for a free consultation.  952.292.7717.