We recently talked with owner and company co-founder Laura Westrude about how she got into landscaping and what she does as a landscape designer.  If you follow us on Facebook, you know that Laura's interest in landscaping goes back to her childhood and what she learned from her father, whom she says encouraged her to follow her dreams.  
Interviewer:  Tell us about how you got your start.  How did you get your start in landscape design?
Laura:  I originally went to school for graphic design, and I was just finishing up a couple of last credits that I had left.  One of the requirements was to go into the industry and job shadow for a day.  I wound up at this graphic design studio.  It was a beautiful day out – about 90° and sunny – and I just found myself wanting to be outside.  That's when I stood back and took a hard look at my career path — what I wanted to do and where I wanted to end up. 
It really comes from my dad and all the beautiful gardens he had at our home when I was a kid. My dad had always gardened a lot, and I wanted to do something in a more creative field like that.  That's when I started exploring the option of being a landscape designer instead of a graphic designer.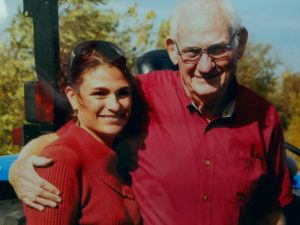 Interviewer:  Since you were introduced to landscaping a little bit by your father, when you went outside, did you start seeing design possibilities?  It seems that design is everywhere around us, so what led you into landscape design?
Laura:  I grew up on a farm, so I always wanted to be outside.  I wanted to do something that would allow me to be outside and get my hands dirty, to be able to stand back and see the bounty of what I had created by the end of the day.  I knew I wanted to be outside during the nice weather and working with my hands, not stuck inside.  And I knew I wanted to be creative.  That's really what kind of prompted me to switch gears. 
Interviewer:  And so you pursued landscape design.  What sorts of things do you need to know to be a great landscape designer?
Laura:  That's a broad question.  You need to know a little bit of everything.  It goes far beyond just choosing pretty flowers.  You need to know what's going to work in our climate here in the Minneapolis area.  You also have to take into consideration such things as rabbits and deer as well as soil and light requirements.  It's taking into account drainage requirements and gutter systems and typography of the home.  You also need to consider the homeowner's style and taste, the architecture of their home, how they want to utilize their outdoor space, and how they envision themselves spending time out there.
Interviewer:  What do you find the most challenging in landscape design?
Laura:  I don't think anything is challenging as much as it's a unique opportunity – just coming up with creative solutions to problems that we see all the time on site.  For example, drainage is something we see all the time that people are struggling with and they don't know how to deal with.  Coming in and being able to look at things outside the box, maybe what we'll do is a meandering creek bed instead of just a black corrugated drain tile that 99.9% of all the other landscape companies would use.  Maybe it's putting in some cisterns and being able to capture that water and use it for a water feature.  We try to think outside the normal box that you get from a lot of the other landscape companies. 
At our Minnesota landscaping company we're very passionate about what we do, and you can see how Laura's background and creative energy contribute to that passion.  Laura – and the rest of our landscape design, installation, and maintenance team love to create unique outdoor spaces that are not only functional but beautiful.   We'd love to sit down and talk with you helping you to fulfill your landscaping dreams – why not contact us today for a free in-home design consultation?  We serve the entire Minneapolis metro area and beyond.