Is your backyard in need of a makeover?  A yard can be used for a number of different things. With the right design, it can be used to store items, give you opportunities for exercise and entertainment, allow a place to have a small garden, and give your pets an outdoor area to play in. The options are endless. No matter what size yard you have, you can still make it look and function its best with a little help. If you feel like your yard is too boring or hum-drum, perhaps it's time to consider  adding a pool, patio, fire pit, fence, etc. to the back of your home to make it stand out more.
But for your yard to look the best, you can't just randomly start adding elements.  There are some things to keep in mind when it comes to making your backyard more functional for the purposes that you have with it. Plan now while the winter is here to prepare for the spring ahead to get started on the look you're after.
The Right Landscape Design Will Pull Your Entire Yard and Your Home Together

The size and space of the yard you have shouldn't matter, since you can do a wide assortment of things with any size yard. The design that doesn't have to be overwhelming or expensive; there are options that will work with any yard, budget and personal taste.  Depending on the use that you have for your backyard, we can suggest a variety of features that will complement your home while giving you an attractive, workable yard.
A Landscape Plan Includes Much More Than Trees and Shrubs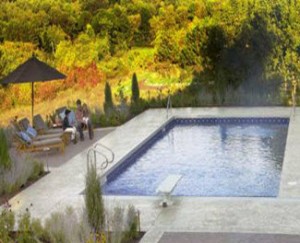 Landscaping is used by many people in order to make the most out of their yards. While many people think of trees and hedges when they hear the term 'landscaping,' it includes a lawn, garden plantings, hardscapes such as decks and patios, bodies of water, benches, walls, outdoor rooms, and so much more.
Even with very little space, a cohesive landscape plan will incorporate a variety of elements to make even a small yard look attractive. You're able to go with many different designs and extras to make the most use out of the space that you have to actually use it for something rather than just a place to use your lawn mower.
Fire Pits and Patios Add Opportunities for Entertainment 
Gathering together with friends and family is something you probably enjoy doing. A patio in the backyard not only gives you somewhere to be together, but also allows you to have a nice place to view while in the backyard. You can make it as simple or luxurious as you'd like, depending on the look and items you place on the patio. You can add flowering pots and plants throughout the backyard for a beautiful look. Even with a small yard, a patio can still be added.  Fire features such as a fire pit give you the added plus of something to enjoy in the cooler evenings.
Backyard Pools and Spas Can Turn Your Landscape Into a Resort

Above-ground and in-ground pools as well as spas can add to the look and feel of your backyard. You can make the backyard more relaxing as well as recreational when adding one of these as well. You can host parties around the pool, create sitting space or even just enjoy the warmer months of the year right by the poolside. You can add small extras such as umbrellas, couches, lounge chairs, small tables, waterfalls and so on to add to the look. Make it personal to what you want to get out of the space.
It's not too early to make spring landscaping plans.  Get started now; this is the best time to jump in and start working with us in designing your dream backyard space. The winter is a great time to think about the many things that go into  planning out how to make over that backyard space that you have before the spring hits. Speak with our Minneapolis landscape design professionals at Architectural Landscape Design to find out how we can help you on your backyard designing journey.  Call us today at 952.272-7712.