If you're a homeowner in the Minneapolis, you've probably been outdoors working around your home to repair winter damage to both your house and property.  Perhaps you've decided it's time for some landscaping changes.  Here are some ideas of what to look for when it comes to a landscape plan that enhances your home's beauty beauty.  On a budget?  Speak with us, since we may be able to suggest ways to make your yard look and feel its best without breaking the bank. We can also extend tips and tricks to help you get on your way to making the most out of your outdoor area. Getting an idea of some of the items that are used for landscape design is always a good idea.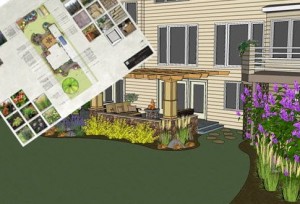 Have a Landscape Design Plan:  You want to know that you have a design to work with before starting on any work.  With a good design you'll know what materials are needed in order to complete it as well as the cost. Consider working with a professional on creating this design – landscape designers are experienced with making less look like more.  They are familiar with which elements can economically pack the most visual punch.  And they may be able to suggest landscaping changes that can cut your maintenance costs, such as converting part of your lawn into hardscaping – no more watering or lawn care!
Know Your Budget:  You will want to know how much you have to spend and stick to it.  Once you have an idea of how much you want to spend, you can work with your landscape design professional to get the most for your budget.  Your landscape contractor will let you know whether your budget is realistic considering the things you'd like to accomplish, and your landscaper may be able to suggest alternative ideas that are less costly.
Have Your Landscaping Installed in Stages:  If you want a few big things done, then why not take it step by step? Have your landscape professional work out a design that can be done in stages.  They can work on one section for now that you can afford, and then move onto the next one when you're able to handle the cost of the next stage.   Of course you'd like to have it all done at once, but that's not always realistic.  And having an overall design plan means that in the end things won't look disjointed or unconnected.
Time Your Landscaping Purchases:  Sometimes different materials are available at different times. If it is during the season, they might be available and actually less than what you would pay if it were off season time. You want to ensure that you're able to afford the items that you want.  Here's another facet of landscaping where a MN landscape contractor is helpful.  A professional landscaper knows the best time of the year to buy certain items, as well has having the best sources.
Put Quality in Front of Price:  This is always an ideal thing to do since you want to ensure that you're getting the most for quality rather than saying you only have such a small amount to put on it.   If it's a choice between cost and quality, choose quality, and perhaps scale down your intentions to stay within your budget.
If you're considering making changes to the landscaping of your Minneapolis MN yard, you should make sure to speak with a professional landscape designer before you make any changes. Here at Architectural Landscape Design, we are able to provide you with everything that you need and so much more. We can help you with an affordable plan for your landscaping needs.  And right now our initial consultations are free – what have you got to lose?  Call us today to make an appointment – (952) 292-7717.