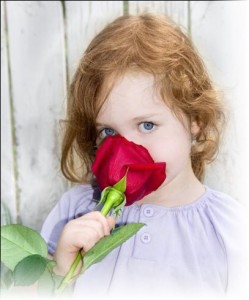 Mention 'garden' and most people visualize roses.  There are a vast number of roses you can plant that will do well in the Minneapolis area, but in this post we'd like to focus on the hybrid tea.
Hybrid tea roses are the most common type of rose that people grow in their gardens and they can be a great pleasure to work with. You plant them towards the beginning of spring time and they grow into a bushy plant that grows beautiful buds throughout the year. They are easy to care for and provide a delight for the eye. You're able to place them up against a window or wall in a rectangular or circular area. Keep the garden simple and put a low border around the roses.
Even though we are professional MN landscape designers, we know that many of you love to get in the dirt and do some of the work for yourself and see the benefits and accomplishments that you get from growing your own. Here are some tips for putting in your own rose garden.
Putting in Your Own MN Rose Garden

Start by purchasing quality roses from a reputable nursery.  At this time of the year you'll probably get bare wood in bags, plastic pots, or cans filled with potting medium.  The directions that follow are for a spot that will hold three rose plants.  You can either choose three of the same variety or a mix of colors.  You'll also need some alyssum or similar low-growing ground cover plants.
Make sure all weeds and debris are cleaned out of a 10′ by 15′ sized area.
Level this area using a steel garden rake and make sure to go lengthwise then across the width.
Start in the middle and dig a hole using a round nose shovel and measure using a tape measure 2′ from the front and 7′ from either side. The hole should be two inches larger than the diameter of your rose container.
Dig the next one by it five feet from the front and three feet from the middle.
Dig the last hole in the same manner. The holes will be staggered to allow the roses to fully grow out and flourish without over-crowding each other.
Push down on the can gently to remove the rose from it. If it doesn't slide out, lightly tug on it to remove it from the can.
Make sure to massage the sides and bottom of the root balls to spread them out so they are able to go in all directions once planted.
Place two handfuls of mulch in each hole but not too much, since you do not want to raise the base or crown of the plant above the grade.
Put all three of the roses in each of their holes, making sure to surround them each with mulch. Mix up the backfill soil and work it in with your hand.
Make sure that the soil is compacted around each of the roses, and then water them.
Near the edge of your rose area, dig small sized 4″ holes using your hand, and make the holes three" apart. This is where the alyssum will be planted which is a low border plant. These will grow on three sides of the perimeter.
Plant the alyssum and mix mulch in with the backfill with them. Pat the soil down on them.
Put a bird bath behind the middle rose about 2 to 3 feet.
Spread redwood bark mulch using a wheelbarrow and shovel throughout the area to keep the weeds from growing around the rose bushes.
Check with your nursery regarding recommended care and feeding of your new roses; needs will depend on your soil conditions and the roses themselves.
Remember, if you need help with your garden design or overall landscape plan and installation, call on us.  We are a leading Minneapolis MN landscape design and installation contractor, and we can help you turn your landscape dreams into reality!  (952) 292-7717.