Most homeowners concentrate on the back yard with landscape design, but what's in front of your house is just as important.  What exactly makes up the front yard landscaping on your home?   Not only do you have to choose something that meshes well with the entire home, but you have to choose something that you absolutely love. This can be done with the right landscaping techniques.
Think Curb Appeal with Front Yard Landscaping

This is the first reason why so many people choose to boost their front yard's look. Not only should the home be welcoming, but it should make your home one of the most beautiful spots in the neighborhood. When you do not have any landscaping done to your front yard, your home can look neglected.
Front Yard Landscaping Can Add Privacy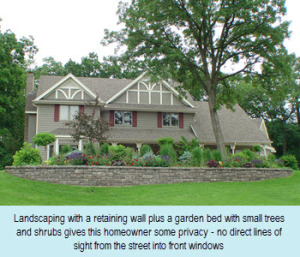 Privacy is something everyone wants, right? This means blocking off those areas where you might not want your neighbors or passers-by to look into. This can be done with a simple terrace, a fence or other addition that makes your yard look beautiful but also provides the privacy you want.  Trees and shrubs can also be used to block direct lines of sight into your home.
Define Your Lines with Landscaping

When it comes to telling where your property starts and ends, this might be difficult to do without the proper lines in place. When you put up a fence at the edge of your property, you can define the lines around your home and know where your boundaries are, while showing others what they are as well. Flower beds or hedges can do the same thing.
Designing an Inviting Driveway
When the driveway stands out, the rest of the home is able to stand out, too. This can be done through putting a new driveway in, having it sealed and then placing bushes, flowers, trees or even lights down the driveway. You can welcome people into the driveway when you add a nice decoration at the bottom of it where people would turn in.  And think about choosing a paving material other than the standard asphalt.  There are lots of options that are more decorative.
When you're ready to make changes to the front yard landscaping on your home, speak with us here at Architectural Landscape Design. We are able to help you come up with a plan during the winter months, so we can provide you with the right installation once the weather warms up.  Call us today for a free initial design consultation
Architectural Landscape Design, Inc. is a licensed MN landscape design and installation contractor.  We serve the entire Minneapolis and St. Paul metro area, as well as surrounding communities, including western Wisconsin.