One of the most popular landscaping features this summer is the fire pit.  They are really growing in popularity, and with good reason.  Here in the Minneapolis area we treasure our outdoor living opportunities and want to make the best of them, and a fire pit can help.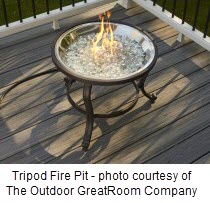 Fire pits add a warm, inviting dimension to any backyard landscape design. We all love gathering around a comforting blaze with friends and family for an outdoor dinner party or an evening of s'mores and star watching.
If you love the idea of having a backyard fire pit, but are a little unsure of how to proceed, consider the following  fire-pit pointers. They'll help you make an informed purchase and guide you through the safe use of outdoor fire pits.
Basic Questions
Are you considering a stationary fire pit, or will you want one that's more portable?
Do you like to burn wood and have the proper ventilation for it, or is gas a better option for you?
What material do you want your pit made from? If it will be frequently exposed to the elements, you may want something that's rust resistant.
Fire Regulations
Be sure to check with city authorities before trying out your new pit, as some communities have restrictions or zoning regulations on fire pit use.
Location
Setting up your pit in a good location may require a little planning. First of all, it should be at least 10 feet from your home for safety purposes. If you'd prefer something a little closer, an outdoor fireplace may be a better option for you.
Also consider the location of the pit relative to the direction of the wind. You'll enjoy your fire a lot more if you don't have smoke or embers blowing in your face.
Fire-Safe Surfaces
When considering the perfect location for your fire pit, also keep in mind the surface you'll place it on. Gravel, brick, and stone are all safe, fire-proof surfaces. To reduce fire hazards, avoid placing your pit on a wooden deck or on the lawn.
Lighting Your Fire
If you have a wood burning fire pit, light it the old fashioned way – with newspaper and kindling. Avoid using flammable liquids as they can flare up and send out toxic fumes.
Extra Precaution
Many fire pits come with a protective screen to reduce flying sparks, but if yours did not, you may want to purchase one for extra fire safety.
For further questions on the right outdoor fire pit or fire place for you, contact the experts at Architectural Landscape Design. We are a licensed landscape design and installation contractor serving the greater Twin Cities metro area.  We'd love to talk about your ideas and help you bring your landscaping dreams to life!