Outdoor patio umbrellas are a must for many homeowners in our area here in Prior Lake who want to have some shade in their yard if they trees. This is something that can provide some relief from the hot sun, but how do you choose the right one for the job?
Patio Umbrella Considerations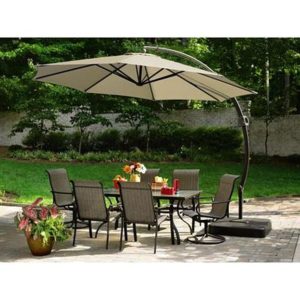 Size and Placement:  First consider the placement of the umbrella as well as the size.  Is it going to interfere with anything around it? Is it going to provide enough shade where you place it? You want something that is not too big or too small for an area but fits well and looks great.
Design and Style:  There are multiple designs to choose from, such as on a side pole mount where the umbrella hangs over the table or other area (like the one shown here).  The advantage to these is they can be repositioned as the sun moves.
The more common style – often called a market umbrella – goes directly in the middle of the table. This style is also available as a  free-standing model. Depending on your outdoor set, one might be better suited for the yard than another.
The design on the umbrella as well as the color has mesh with the rest of the outdoor space as well as the exterior colors of your home. Consider many different colors and patterns. A pattern might provide a pop of color that you're able to enjoy for years to come. But in some situations a solid color might look better,  depending on the designs that are on cushions or other items throughout the backyard space.
Choosing Patio Umbrella Fabric:  The fabric that you choose should be able to protect against harmful UV rays that shine down during the day. Some umbrellas are not rated for this, which can become a problem and you might still get burned from the hot summer sun.  Also look for fabric that's labeled sun resistant. Sunbrella™ is a good choice.
Another great consideration is to choose an umbrella that is mold and mildew resistant, as well as waterproof. If it is sprinkling outside and your umbrella is out, then you want to ensure that it is not going to be ruined because of the light rain.
Ease of Use:  Try before you buy.  Make sure that the umbrella is easy to use when you want to open and close it. Check to make sure that you're easily able to fold it down, get it out of the way and not have to wrestle or hassle with it.
There are many other shade options out there to choose from when it comes to obtaining the sun protection you want or need in your yard. Architectural Landscape Design installs beautiful pergolas that are a more durable, permanent option that will look beautiful in your yard. Speak with us today to find out more or check out our Pinterest board for more shade ideas.
ALD is a licensed Minnesota landscaping contractor based in Prior Lake, but we serve the entire Minneapolis metro area.