Water features add so much to a yard – sight, sound, and just overall soothing.  One of our favorite elements to add to water features like waterfalls is natural rock, both for creating the waterfall itself as well as surrounding the area.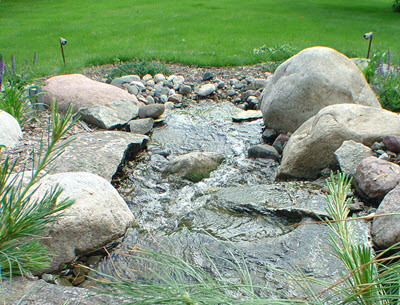 Choosing to create a beautiful outline around the waterfall in your yard is a great consideration to make. However, choosing the right stones and rocks to place around the waterfall can be difficult to do if you're unsure of what to look for. When choosing the rocks for it, they have to not only be right for the waterfall, but right for the area.
The Size, Number, and Placement of Rocks Used Is Important
When choosing the amount of rocks and also the size of them, you may want to go with a mix.  It provides more visual and textural interest.
Usually, the outline of the waterfall is going to be done with fewer rocks. Using larger rocks and boulders around the outside of the small pond area and the waterfall can provide a natural look, and it also makes a way to enclose the waterfall, to prevent accidents from happening. When the rocks are placed strategically together, you can seal up any gaps left in between them.
Having these larger rocks placed carefully around the waterfall is essential. With the right placement, the waterfall can look more natural and less staged for the backyard. A landscaping contractor that works with natural stone is able to help with this and also make sure the boulders will not fall over and are set in place securely.
Smaller pebbles, river rock, and gravel can be used inside the waterfall pond area. This can provide a soothing sound when the water from the falls runs over the smaller pebbles and stones inside the pond area. Use a variety of colors and textures of rock in this area as well.  You can make your waterfall truly stand out in the yard with the right pebbles inside of it.
Here are some other considerations to make for your outdoor waterfall feature.
Speak with us here at Architectural Landscape Design regarding any boulder or stone work you'd like to have placed in your yard. We can help you choose the perfect rocks, boulders, pebbles and beyond to create a welcoming, inviting atmosphere for you to enjoy.  No waterfall?   No problem!  We're a licensed MN landscape design and installation contractor with plenty of experience with water features like waterfalls.  Give us a call today for a free consultation.