Adding a pergola to your patio or deck is a great way of creating an outdoor room with style. You have a number of options – you can either have one custom designed and constructed by a landscape contractor, you can purchase a package model to assemble in your yard, you can build one from scratch, or you can order one and have a landscape company install it.  How do you choose? This article from  the professionals at Outdoor GreatRoom Company goes through the many options that a homeowner has when it came to choosing to go with a DIY pergola or one installed by a landscape professional. Whatever the needs you have are, one or the other might be better for you. Each has pros and cons that go with them, but when you hire a professional for the job, the job is usually guaranteed.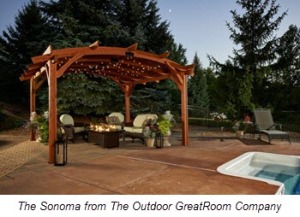 Read the article to find out about the pergolas that you can place in your backyard, and learn a bit more about choosing to add one. Whether you're considering this for your yard or someone else you know, the post can provide insight on what you might want to do in order to get the pergola erected and looking the best that it can.
Key points in the Article:
Know how much it would be to build your own pergola
Know how much lumber and additional items you need
Know the costs of hiring a professional
Learn the benefits, and the down falls of doing both
Get expert advice on pergolas
At Architectural Landscape Design, we can install a pergola from Outdoor GreatRoom Company that matches the look you want and needs you have. When you count on us to create the perfect outdoor living space, you'll never have to worry about not having the right look or the best quality.  As a licensed MN landscape design and installation contractor, we can add a pergola to your existing outdoor living space, or if you'd prefer, we can custom design a new spot that's the outdoor living room of your dreams.  Call us today for a free in-home initial design consultation.