Is your outdoor furniture looking a little dated?  Today for your outdoor rooms you can get the same luxuries that inside furniture brings.  If you want to provide a more comfortable, updated feel to your patio, then updating the furniture to something more modern might be the way to go. It should not only be comfortable but it should also work with the surroundings. And you want something sturdy, furniture that is not going to break after a week; you want durable, comfortable, reliable furniture that gives the right look and feel for the home, patio, and garden area that you have. Think about some key factors that come into play when choosing furniture and not just for the outside, but for the inside as well.

How much entertaining do you do? If you usually have a small group then this is something to consider, along with having options for a large group as well. Decide what your entertaining style is and then work around that. You should know how much seating you usually need, and then have an idea of what you want the outdoor area to look like.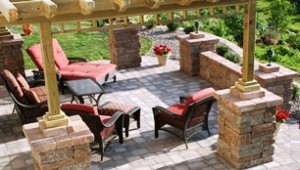 Make sure to use your imagination when choosing the furniture – you can become as creative as you would like. This is your space and you want it to match who you are and what you want. The furniture should provide a lot of uses and not just a few, depending on what it is that you do outside.  Casual dining with your family, formal entertaining for a crowd, poolside lounging with your kids, or just enjoying your morning coffee with nobody but the birds – there are furniture options to provide all this and more.

Work with the home that you have. Think about what the style inside your home is and then move it to the outside of your home. This will give the outside rooms your own personal touch to match the inside.  It will also work with making your indoor style flow seamlessly outdoors.

One option we'd like to recommend for those of you looking for something unique is our custom natural stone furniture.  This exciting new design option is something a little different than what you're used to. These pieces are designed from local stone and are ruggedly beautiful, one of a kind, comfortable, and can stand up to anything.
Make sure to have enough room for all your friends to gather and give them something to talk about when they see the beautiful furniture that is on your patio. If you're having trouble deciding what will work best for you, give us a call.