If the term "concrete" conjures up miles and miles of poured sidewalks, we'd like to change your mind.  Concrete landscape materials are a great choice for hardscaping.  Driveways, walking paths, outdoor kitchens, patios – all of these applications are appropriate for concrete pavers.  But there are differences in their construction, and there is no one paver that's perfect for every use.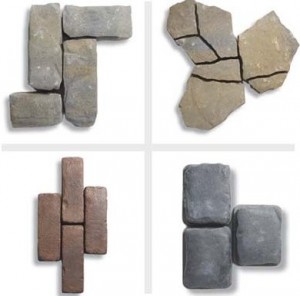 There are a wide variety of styles and types to choose from, however, and which you select depends on the purpose. For instance, if you love the look of brick for your driveway, consider a concrete paver which replicates brick. It's much stronger and resists crumbling under the weight of vehicle traffic. Love the look of natural stone and are considering rimming your pool with it? A better choice would be concrete stone-relief pavers. Real stone can be slippery when wet; concrete will give a firmer footing. Another good choice around wet areas is exposed aggregate, which gives the look of a bed of pebbles, but with a much smoother feel underfoot, as well as the pebbles being fixed in place.
If your concept of a concrete paver consists of those pastel-colored rectangles used by the multitudes for do-it-yourself patios in the '70s, you are in for a pleasant surprise. Much more is available in concrete pavers – here's a peek at some of the most common styles.
Creating hardscapes in your yard is one way to bring a finished look to your landscape. Strategically-placed pavers can direct traffic, or a grouping can form the base for a relaxing spot. At Architectural Landscape Design we can work with you to bring just the right touch to your yard by incorporating appropriate hardscapes such as concrete pavers.