Entertaining outside can be a wonderful thing to do. Invite family and friends over, and have a deck that was made to impress. Decks made from wood may be attractive to some, but they do come with some maintenance that needs to be done throughout the year, year after year, to keep them in their best shape.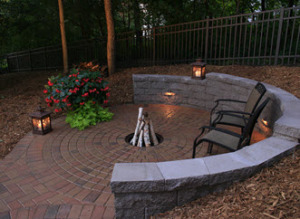 When you choose to go with a hardscape space made from brick, pavers or other types of hard materials, you can skip all that re-staining and other maintenance work.  Bricks have lots of appeal.  They have a traditional charm, provide a beautiful setting,  and give you e a way to make your home stand out from the rest on the block. Never have to worry about not being able to have enough room to accommodate your guests because a brick patio can be any shape and size.
There are also many other uses for hardscaping with bricks, such walkways, as a deck around the pool, or to create a small sitting area within your yard. (The teardrop shaped brick patio in this photo forms the base of a cozy outdoor room with a fire pit as its focus.)  Perhaps you want a beautiful gazebo but are concerned that it's level?  Hardscaping can give you the base as well as a walkway to it. The sky is your limit when designing the perfect backyard getaway for you and your family when you have brick hardscaping installed. We can help you choose the perfect materials for your new patio.  Our landscape design team has an artistic flair,  and we can plan a brick patio that you'll love.
Whether you're looking for brick or any other hardscaped patio to accent your home, we have multiple options to choose from. Each can increase the look and value of your home, while providing comfort and a place to entertain when the weather warms up. Speak with us here at Architectural Landscape Design to find out what we can do for you, and don't forget to check out our Picture Perfect Patios board on Pinterest for additional backyard inspiration. Never settle for less; call us today for a free initial design consultation to discuss your specific backyard visions, whatever they may be.