Imagine your current kitchen, without cupboards. Now, take that scary concept out into the backyard and you will understand why the success of an outdoor kitchen area has as much to do what cannot be seen by the chef's naked eye.  In other words, it's as much about drawers, cupboards, hooks and shelves in the backyard kitchen as it is in the main one. We can sketch out backyard kitchen design options for every taste and, more importantly, every budget.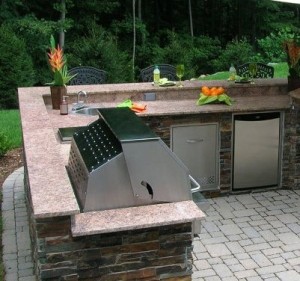 If space is at a backyard premium, then storage above the counter and grill tops is key. Just as a lattice work can add shade and beauty to a backyard, so too can the right overhang accoutrements complete an outdoor kitchen. It doesn't all have to be stowed away in drawers and cupboards underneath the counter tops. A balance of bottom and top-tier storage containment can ensure complete outdoor kitchen harmony.
What kinds of menu items will the outdoor kitchen most often be used for? Will family, friends and guests generally be dining outside as well, or served inside from the outdoor area? These are just a few examples of the kinds of questions we might have for you.
Our outdoor kitchen expertise will comfort and surprise you. We can offer ingenious solutions for all backyard shape and size challenges. But all must be properly scaled, so that the end result feels neither cluttered nor contrived. It's also important to shy away from more fragile or breakable cupboard and shelf materials. Durability is as much a consideration as practicality. So to is the efficiency of the handles, locks and closure seals. There's a lot more dust and particle floating around outside; storage spaces must accordingly be battened down to prevent all that from coating what's inside.
Let's face it, the appeal of an outdoor kitchen area is that it feels like one is dining with nature. As such, it's essential to choose a company that can ensure the storage solutions surrounding the main grilling and preparation areas feel as "natural" as humanly possible.  We want your outdoor kitchen to feel like an extension of your home flowing into nature.
If you've held back from adding an outdoor kitchen to your yard because you don't think you can make it work, why not let us give it a try?  We'll work with your ideas and help you bring your outdoor living dreams to reality.