Here in Minnesota we enjoy being outside when the weather is warm.  The most convenient way to do that is with an inviting area in your own yard. 
Perhaps your outdoor area is a little boring, or maybe you're ready for a change.  We all want our space outdoors to be inviting and comfortable – a place that we want to spend time alone or with company. However, your space might have become stale and needs some revamping.
Why not spice up your space outdoors by modernizing it?
1. Sharpen Up the Area for Entertaining
The area you use to entertain outdoors is most likely the highlight of your yard.
Make the area more inviting with using seating that is comfortable as well as attention-grabbing décor.
Pieces that are in lines and have straight angles give contrast to shapes in your garden that are organic, rounded and soft.
Using bright colored large pillows can change the look instantly.
Use a rug that is colorful or paint the deck or patio with a design that is vibrant.
A pergola can help make this area the focal point. If you're unable to have one installed right now, use bamboo panels or a lattice screen for a backdrop.
Adding a fire pit that is raised and large can also make this area feel welcoming.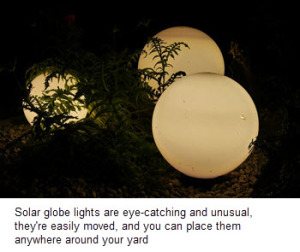 Have an Exotic Look by Adding Lights
Any space outdoors, even the ordinary, can be made into something mysterious in the evening with the right outdoor light.
Use solar lights for an inexpensive jazzy look to your space outdoors.
Strings of lights hung from branches set a mood that is festive.
Lanterns and gorgeous light fixtures look awesome in the day as well.
Unusual Plants Add a Curiosity Factor

One of the ways to liven things up in your outdoor space is to add the unexpected or something that will stimulate curiosity.  Certain plants can work. You do not need to use much, and they do not need to have odd shapes.  Just look for varieties that are out of the ordinary.
Besides flower beds, add some unusual plants in pots around your deck or patio.

Potted palms can be a great choice. In addition to being beautiful, they are easy to care for.  They provide some visual appeal in the summer outdoors, and then you can bring them in when the weather turns cool and enjoy them indoors until spring comes around again.

Succulents and cacti are nice options. These are low-maintenance, and the variety is almost endless.  Look for unusual specimens.
Add Revamped or New Planters
Container plantings are one of the most versatile approaches to adding flowers and foliage to your outdoor space.  They're easier to care for than a garden bed, and they can be moved around.
Use gorgeous bold planters in ceramics, stone, metal, or wood. Especially striking is the patina on a copper planter.
An inexpensive way is make planters yourself with hypertufa, a DIY craft material that mimics the look of stone.
Use old metal tubs, wheelbarrows, and old tires for planters.
Paint planters that are tired-looking with dark grey or black, adding geometric patterns.
Add Pieces of Outdoor Art

Outdoor art accessorizes your yard just as art pieces inside do for your home.
Stone sculptures, Buddha statues, large vases, and metal artifacts placed strategically can give your outdoor space visual variety.
Features with water are a gorgeous addition, in any size.
Add some unexpected visual interest with outdoor mirrors.
If your outdoor living space is boring, you can liven it up with any of these ideas.  But if it's time for a major overhaul and what you'd really like is a brand-new outdoor living room, call Architectural Landscape Design for a free in-home consultation.  We offer design and installation for all your outdoor landscaping needs.