Ever wonder what would happen if you did not take care of your yard properly?
It does not take a long time to properly give your landscaping the tender love and care that it needs at all. A once a week cutting of the grass along with some weeding in your flower garden really goes a long way when it comes to the care and maintenance of your lawn. If you happen to choose to neglect your lawn, here are a few things that may happen to it.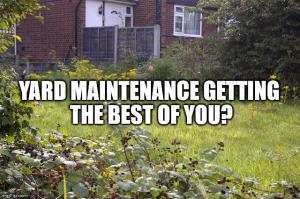 If you choose not to take care of the shrubs and trees that are included within your landscaping, it prevents healthy growth.
A tree with older limbs that are weaker is spending its energy on helping it get better or grow. When you trim your trees and shrubs – about once a year is recommended – the tree can give more energy to growing new limbs. Additionally, it can be a hazard to not get rid of those older weaker limbs in a storm with damaging winds.
Just like humans can spread infections and diseases, so can trees and plants. If a tree is looking a little "sick" or different to you, do not ignore this. The problem can lead to more of your plants and trees gaining this infection and can even end up spreading to your neighbors' trees.
A Neglected Yard = Reduced Property Value
When your yard is looking like you have not touched it in a decade (even if it has only been a month) it can affect your property value.
A beautifully landscaped or well cared-for yard can increase a property's value by 10-15%. If you end up neglecting your lawn, however, this can actually decrease your property's value – and the value of your neighbors' properties' as well.
It might come as a shock to somebody who neglects their lawn, but when you do so it can negatively affect your reputation. When people see how your lawn looks it can really put a damper on how they think of you as a person, because often times it might be the only thing they have to go off of. Of course, you have heard the saying "never judge a book by it's' cover" but sadly, people still do.
And finally, your local community may have ordinances in place that provide for fines or other penalties in the event your yard is neglected. 
If you need help with your landscaping you can always count on the professionals at Architectural Landscape Design to help you out. Do not let your yard lawn negatively affect you in any way.  If caring for your landscaping is overwhelming you, give us a call today to talk about installing some low-maintenance landscaping solutions.
We are a licensed MN landscape design and installation contractor, serving the entire Minneapolis metro area, greater Minnesota, and western Wisconsin.