Got a small yard?  Small yards especially need proper landscaping to maximize their function as well as their appearance.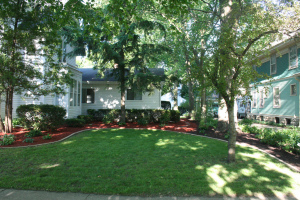 If you're like most people, your life is full.  Being able to relax at the end of a busy day is important.  You don't always have time for a vacation getaway, so it would be great to have a spot close to home.
What about in your own backyard? 
Having the perfect spot to relax and entertain outdoors doesn't require you to own a sprawling estate with multiple gardens, decks, or gazebos. A small backyard can become as much an escape as any if the proper landscaping attention is paid to it.
Considerations for Landscaping a Small Yard
An overall landscape plan that turns your entire property into a beautiful and useful yard is great, but you may not have the time or the funds for that.  So here are some individual elements to consider.
A simple mow and trim around the edges can make a lawn neater
Add a few plants that provide texture and color for interest
A proper fence can provide privacy from the outside world, but it can also be the blank canvas for some great visuals
Walkways and patios create geometric awakenings of the senses
Decks and patios don't have to be huge to be dynamite – a small deck with comfortable seating will become your favorite spot this summer
Add a small visual element like an arbor archway covered in climbing roses or vines
Mulched beds keep the weeds contained plus show off your shrubs
Neat garden beds along the fence line or corners will draw the eyes as focal points. These can include shrubs, ornamental trees, and flowers at different heights and colors to add depth to an otherwise straight line.
Plant flower varieties that will attract birds and butterflies.  Use of perennials will cut down on your maintenance.
Mix colors and shapes in stone to turn a walkway into an adventure. Pavers come in many styles and can be bordered with flowers or ground cover. Stone can also be used to create a centerpiece with a fire pit. Fire pits are great places for casual summer cooking if your yard isn't big enough for an outdoor kitchen.
A nice sized deck is a great location for a table and chairs, creating a setting to relax while taking in an evening sunset. This deck can be tiered, which generates depth and options for seating. A couple benches built into the sides allows for permanent seating, removing clutter by reducing the need for multiple chairs. A partial overhang will provide shade on hot afternoons and evenings, lending to greater comfort.  A small pergola will also give some shade.
You can make your backyard design stand out, even while on a budget!  No matter what the size of your yard, we can design a landscape plan that's perfect for your home and you.
The ideas are boundless, and Architectural Landscape Design will bring your dreams to fruition. To see some backyard inspiration ideas, check out our Pinterest board!