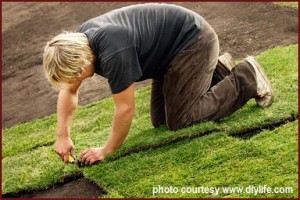 Lawns are an important part of the landscape design for many Minnesotans.They are frequently used as a place to gather and commune with family and friends. But if you've got a lawn you know the importance of maintaining its appearance, because an overgrown or neglected lawn can really detract from your home's overall appearance.  Here's a previous blog post that deals with the basics of lawn care and how to maintain it year round.
Getting your lawn to look and remain looking its best can be a time-consuming process. With this post we'll consider the three main options with respect to lawn care, and we'll compare them with a specific eye towards taking care of your lawn in a manner that doesn't take up too much of your time.    Here are the three options if there are areas of your lawn that need some help:
Patch:  Patches for lawns are not as simple or quick as they may appear. Leveling them with top soil is crucial if you want long-term success. In order for patches to work the seed must be kept consistently moist until germination takes place. This requires a great deal of work but it can be effective in small areas.


Seed: For the use of seed, preparation is the key. Old grass must first be removed. Then lime fertilizer and compost are added. It is then time to level the ground and grade it to give it an effective start.  And it usually needs to be protected with straw or loose-weave cloth until it is established.


Sod:  Seed tends to be a cheaper option when you are seeking to replace bigger areas. But you have to keep it consistently moist until germination takes place.

The preparation process with sod is identical to that of seeded lawns and both methods involve use of the same types of grass. The difference is that with sod, the process is fully complete in two weeks. It fits comfortably around planting beds, features and hardscaping. Sod has the capability of being installed any time of year. There is typically very little aftercare.
If keeping up on your lawn care is getting to be too much, perhaps its time to consider some other low-maintenance landscaping solutions, such as adding hardscapes, rock gardens, natural prairie grasses, or other lawn-free areas to your yard.  At Architectural Landscape Design, we ar here to help you with your landscaping needs. Get in touch with us today to find out how we can help you and your Minneapolis MN yard today!  We are a licensed landscaping contractor  serving the greater Minneapolis MN metro area.  Call for a free consultation – 952.292.7717.