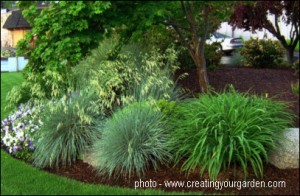 With summer right around the corner, this may be the best time to get all caught up on the latest summer landscaping trends. We've covered a number of the most popular landscaping elements in some recent posts, but with this post we hope to focus on things you may want to consider adding to your landscape design as a way of beautifying your Minnesota yard this summer.
Here are the three trends we'll be focusing on in this post. And we'll have a few words about each one to follow.
Edible yard and garden
Native plants
Chic containers
Perhaps you are familiar with the idea of the edible garden. The concept is simple enough and it doesn't take much persuasion to help someone understand the advantages of such an idea. Here's a previous post that explores the concept in fine detail.  The latest trend, however, is to take the idea even further and to cultivate a garden you can drink as well. Specialty food extractors that break down fruits and vegetables and make such plants as kale, spinach and Swiss chard particularly attractive.  Some homeowners are going as far as keeping a blender and juicer in their outdoor kitchens so that they can enjoy a glass of fresh-picked goodness
Native plants are experiencing an enormous surge in popularity. Whether it is trees, plants or grasses, going native seems to be thing to do for many people these days. The reasons for doing so are fairly clear. Native plants have a tendency to be low maintenance once established.  They require little in the way of watering or fertilizing and usually don't need to be dead-headed.  Replacing part of your lawn with native plants is a great way to make your lifestyle a little more eco-friendly, plus it will free up some time since you won't be mowing or watering as much.
Chic containers are a low-cost, low maintenance way to supply a touch of class to your landscape. One can expect to see more sophisticated, high=end containers in the coming months, especially in monochromatic colors that can turn a simple potted plant into a work of art.  (For some container inspiration, visit our Pinterest board on Container Planting Ideas.)
When it comes to Minneapolis landscaping, there are a number of ways that we can be helpful. For example, we design container paintings as well as implement them into an overall landscape plan.  From design to installation to maintenance, we're there every step of the way to make sure you get the yard of your dreams.  Check us out today and let's get the visual appeal of your yard heated up before summer!  952.292.7717.