Dogs have become the focal point of life for many of us, and they are a part of our families. If there's a dog at your home, when you're re-doing the landscaping throughout your yard, you want to keep your four-legged family member in mind.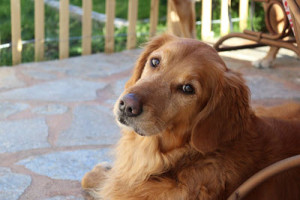 Dogscaping: A Landscaping Trend
One of the hottest new trends in landscape design that is sweeping the nation is dogscaping. This is where you incorporate great things in your landscaping for none other than your dog.
Dogscaping involves two elements:  landscaping touches that provide comfort and/or recreation for a canine, and landscaping that makes it easier to have your pooch outdoors without losing your favorite flower bed.
In this post we're focusing on your dog's comfort.  Consider some of these options for the MN landscaping you're going to be doing.
How About Adding a Functional Dog House?
Dog houses do not have to be anything fancy, but do provide shelter for the dog somewhere out of the direct sunlight for shade. It can be large enough for them to go in and lay down, while also being in the right area. They will thank you for this awesome place to hang out when they are hot. Just make sure they have access to water around the area.
Decorate Outside of the Dog Home
Give them a little scenery to look at, as well. Create a flower bed for them to enjoy, or consider adding a made-up fire hydrant as a designated place for necessities. Be creative with what the dog might like when you add the dog house to your yard.
How about a dog drinking fountain right outside of their home? This way, they always have access to cool, clean drinking water when they are out there.
Don't Need a Dog House?
If your dog doesn't spend too much time outside, and you think a dog house might not be used all that much, consider adding an awning over the patio. Not only is this ideal for you and your guests, but the pup will be able to stay cool while sitting outside with you, even for short periods of time. They are relatively inexpensive and can go great with your home.
Cool the Dog Off with a Dip
Consider adding a small pond to the area that is large enough for the dog to get in and have some fun, but not large enough for the dog to drown. You want to keep a healthy balance between the size of the pond, and the size of your yard. You want to give the dog somewhere to play and enjoy, and there is no better place than a pond.
Need more inspiration? Check out this earlier post for  check out some more tips.  We've also got other great pet-friendly landscaping ideas on our Pinterest site.
When we design a landscape plan, we always incorporate features that take into account each resident of the home, whether two or four-legged.  Speak with us here at Architectural Landscaping Design, where we love dogs as well as landscaping. We can help you bring the two together to create a truly unique area for everyone to enjoy. Call us today and we can get started!