Are you still watering your plants?  Homeowners think about watering in the warmer months, but your landscaping needs water in the fall, too.  If the amount of rain we're getting here in the Minneapolis and St. Paul area isn't doing the job, you'll need to give Mother Nature a hand.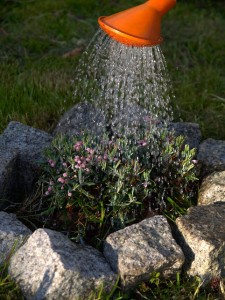 When the time comes to water your garden, you need to do so with the right amount.  You don't want to overdo it, but sufficient water is important in order to help your plants survive throughout the harsh winter. Watering thoroughly in the fall time can greatly reduce the chances  your plants, trees, and shrubs dying out or contracting diseases in the winter.
If you've got plants with high water needs, make sure that these plants are thoroughly mulched – mulch is able to to hold in the water, retain it and have it available to the plant when needed.  Before you lay your mulch, make sure to mix up the soil and add compost to it, then add your mulch and water as needed. You want to make sure that the plants are able to get the nutrients from the compost to make it throughout the winter.
Although most of them are done blooming for the year, you may have some annuals like mums and asters that are still in flower.  Those annuals should have a smaller amount of water, where the perennials should have a bit more and shrubs should be watered generously with water.
If you feel that watering all of your plants is getting to be too much, you might want to consider adding hardscapes throughout your yard, or replacing some of those big drinkers with native plants or other varieties with low water needs.  Even a rock garden can provide beauty all its own. There are many ways that you can change up your yard to reduce your yard maintenance. Fall is the perfect time to make plans for changes and even get a jump on spring.  There are many things we can do now to make your yard more carefree next year.
When you're ready to make some changes to your landscape, or if you'd like some other helpful advice about caring for your yard, speak with us here at Architectural Landscape Design. We are your licensed Minneapolis landscape contractor,  and we can help you with planning and implementing changes to your yard.  We can work with you and take your ideas to create a yard that really stands out in the neighborhood and one that you want to sit in and enjoy.  For some inspiration, check out our Pinterest boards.  And then give us a call for a free initial consultation at 952.292.7717.  
(Here's a tip if you're adding plants to your yard – those plants that need a lot of water should be closer to the house, so they are easier to reach with a hose.)