For many homeowners in the Minneapolis metro area, traffic noise is a major problem. But did you know that there are highly creative ways to battle the problem of sounds from the road while simultaneously beautifying your landscape?  Let's now take an in-depth look at these noise-reducing barriers as well as the benefits — both practical and aesthetic — they provide to you and your landscape design.
Hedges
Sound barrier walls
Fences
Hedges have, for quite some time, been a natural as well as naturally beautiful means of keeping intruders away and maintaining privacy. But hedges can also serve the vital function of muffling the sound of traffic noise. Any kind of evergreen or flowering shrub can do a highly effective job of creating sound-muffling hedges. Pine trees are commonly seen along highways for this purpose (especially for vehicles traveling at high speeds).  Keep in mind that evergreens will be full year-round, while hedges made of deciduous shrubs will be less effective in the winter months since they lose their leaves.  Hedges also soften your landscape's look, thus framing your property in a way that pleases the eye.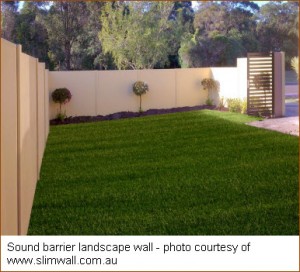 Sound barrier walls are also commonly used along highways. And while installing a stone wall can be quite an endeavor, it should be considered a part of your landscape design as opposed to merely a device to keep things quieter.  Stone walls can add an artistic yet natural element, and they don't require the care that living walls such as hedges do.
Fences constructed of solid materials can be very effective at keeping out unwanted noise. Wood works particularly well in this capacity, especially stockade fence, which additionally does an outstanding job of creating a visual barrier from vehicles traveling down the street.  Fences and other barriers (if high enough) can also do an effective job of keeping out such animals as deer. Check out this previous post on building deer resistant fences and barriers. 
Creating sound barriers to combat the problem of traffic noise is just one of many ways that Architectural Landscape Design can be an invaluable resource to you.  We are a Minneapolis landscape design contractor serving the entire Twin Cities metro area as well as outlying Minnesota communities.  If you've got problems with traffic noise disturbing the enjoyment of your backyard, give us a call today for a free consultation – we can talk over your options and discuss turning your landscape dreams into a peaceful reality!  952.292.7717.