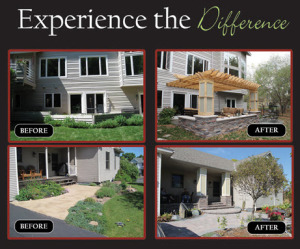 Landscape design that works requires a lot of planning and effort.  When it comes to putting anything together or making it stand out more, you are engrossed in the project. You do not stop and think about the creativity and the designing that you're putting in motion for the skill that you have. This might be true for some that want a different landscape, but it is most definitely true for those landscape designers that do this for a living. They take any piece of land and make it into that outdoor getaway spot that you wanted.
So what kinds of things do we take into account when we design a landscape plan?  There are some basic elements to designing the perfect outdoor space, so before you go forward and plan for yourself, consider them.
Color: This is a big part of the design process. With the right color coordination, you're able to take brights and neutrals and mix them together to create a beautiful, lush area that you want to sit in.  Colors in the landscape elements not only have to go together but need to complement the home's colors.
Form: The form that you choose for the layout of the backyard is a big thing. Without the right form, much like exercising, you're not really doing yourself or your home any favors.  The design needs to be deliberate and not haphazard.  Again, it has to be in harmony with both the property and the home.
Lines: The lines that you create throughout the landscape will act as borders around the beauty that you put within it. Without the lines, it is not going to stand out as much as you'd like it to, and it is not going to provide you with the beauty you're in need of.  The right lines also add to overall design harmony and coherence.
Scale: The scale is also an important design consideration. You cannot have overly large items within such a small space; this is going to throw the look of the yard.    something you're Large properties can handle larger landscaping elements, while compact yards need small features.  Keeping everything within proportion is going to give you the best results.
Texture: Textures mean everything from smooth to grainy and everything in between. With the right textures paired next to one another, this is not only pleasing to the eyes but to the senses as a whole.  Textures include such things as smooth stones vs. rough boulders or bricks as well as a variety of plants and shrubs that can produce different textures.
When you use these five elements together as a whole, the result is a landscape design that pulls all the features together. Your landscape will be the best that it can possibly be and  you'll have that wonderland you've pictured in your head.
When you're ready to get started on bringing that landscape vision into reality, speak with us here at Architectural Landscape Design. Now is the perfect time to start the planning. We will work with you to come up with the right design so we can start the landscaping process come the warmer months of spring.
We are a licensed MN landscaping contractor, serving the Minneapolis-St. Paul metro area, greater Minnesota, and western Wisconsin.