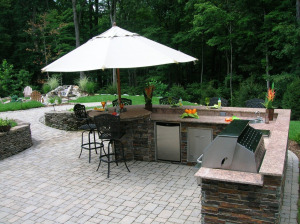 One of the most popular Minnesota landscaping projects is adding an outdoor kitchen to a yard.  Outdoor kitchens are beautiful as well as functional and provide additional living space right outside of your home. An outdoor kitchen is also able to make life much easier instead of having to go in and out over and over during the summer months while having a cook out. Have a space to do it all right outside, and have a good time.
Creating this area allows for lots of flexibility – you can go as small or as large as you'd like, and you can keep it simple with just a grill and a covered counter, or go all out and add all the extras to make cooking and eating outdoors a breeze.
Making effective use of the space that you have to work with is an important element in the design process. Consider what you might need space for, and if you can structurally support the items without a problem on a deck or patio area. When designing the kitchen, ensure that there is enough space for everyone to sit and have a good time as well.  Outdoor cooking lends itself to friends and family gathering around, enjoying conversation with or helping the cook.
Consider how often you're going to be using the outdoor kitchen. Should you add items that perhaps you're never going to use? Maybe a small, simple sink that will add to the look and functionality, but not such a big grill and maybe not a fridge. You can also go with large choices of all three if you're planning on doing most of your cooking and dining outdoors in nice weather. The amount of time you're going to be using this kitchen determines what goes in it.
There is no limit the items that can be placed throughout your outdoor kitchen. It's important to properly equip the entire kitchen area so that you can make the most use of it. In addition, get a professional to check every area you're going to use from the electrical outlets to the stability of the deck.  A professional landscape designer can help you come up with a plan for an outdoor kitchen that maximizes the space, looks great, and complements your home.
Time to add an outdoor kitchen to your home?  Speak with us here at Architectural Landscape Design, where we are able to help you design and install the outdoor kitchen you're dreaming of. We know that it is winter, but it is never too early to start designing and getting ready for the warmer months we've all been waiting for.  Planning now means you'll be ready for installation as soon as the ground thaws!
Architectural Landscape Design is a licensed MN landscaping design and installation contractor serving the entire Minneapolis and St. Paul metro area, as well as the surrounding communities, including Western Wisconsin.  For some outdoor kitchen inspiration, visit our Pinterest Outdoor Kitchen Ideas board.  Then call us for a free initial consultation!