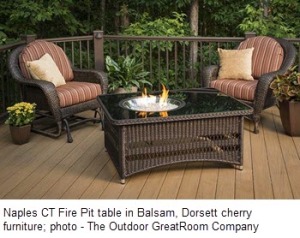 Are you ready to start the fall outdoor season early this year? 
Start it off right with a gas fire pit table in the yard that you own.  We recommend the beautiful fire pits from The Outdoor GreatRoom Company.
If you're not sure that a gas fire pit is for you and you still need a little convincing, here are some things to think about.
Why a Gas Fire Pit Is Perfect For Your Yard
Great looking gas fire pits can be ablaze at full power in less than 5 seconds as well as being turned off immediately.  This means you can a blazing fire instantly without the hassle of trying to get it started and when you are done just turn it off there's no wait time to see if it is out completely.
These fabulously designed fire pits are safe to use within the city limits, and they are allowed to be closer to the house where wood burning fire pits may not be allowed.
With the variety of looks, designs and burner sizes available with gas fire pit tables you can choose one that fits your personality.
When these fire pits are lit there are no sparks or hot embers in the wind; in other words, no mess, less clean-up time, and little fire hazard issues.
Adding one of these fabulous fire pits next to your pool or even on a wooden deck is easy, and they are safe to use next to your patio furniture.  You cannot do this with a wood-burning fire pit.
Wood-burning fire pits are close to the ground; gas fire pits can be set at almost any height.  Imagine having company over and chatting at a dining or pub height gas burning fire pit.
Imagine 2 for 1– gas fire pit and a table. When the fire pit is not in use, cover the burner and use it as a table.
Gas fire pits provide both heat and ambiance with an easy-to-use adjustable flame control.  You will be amazed at how easy it will be to control the temperature and flame height.
These gas fire pits offer even more versatility.  You can change the look with glass guards and colored glass gems
These fire pits are not only gorgeous but they are UL (Global Independent Safety Science Company) listed for safety– very essential!
Want a gas fire pit but do not know where to put it? The Outdoor Greatroom Company is one of our favorite suppliers, and as landscaping designers we can do a wonderful job planning an outdoor room around a fire pit of your choice that fits your personality.
Need some fire pit inspiration to get your dreams smoldering?  Check out our Outdoor Room Ideas on Pinterest, and re-pin your favorite outdoor ideas.  Then give us a call to set up a free design consultation.  You could have that outdoor room complete with fire pit installed before the nights get chilly here in the Minneapolis area!