If you own a fountain then you already know how great it can be to have it there. If you do not, then you might want to consider the beautiful aspects that come with owning one. Not only is it able to provide a beautiful focal point in your yard, but it can provide soothing sounds, as well. You have many options to choose from, which means you can pick something that appeals to you and goes with your yard or garden. Once you have it in place, it is important to keep it in good working order so you can continue to enjoy it for years to come.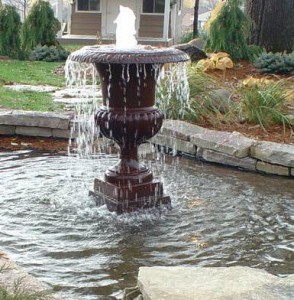 Get Rid of the Build-Up In Your Fountain:  When your fountain has run for some time, dirt, grime and build up can accumulate on the surface. You want to make sure that you clean out the water by running it through. Completely dump out the fountain and clean out the inside using a cloth or sponge. You can use vinegar and a brush to completely remove grime. This can be done once a month.
Slip on a Sock:  If you slip a nylon stocking right over the pump that the water comes out, you are able to catch the dirt and debris that might make its way into the fountain.
Fight Off Scum Build-up In a Backyard Fountain:  Add a clarifier to the water in order to fight off algae and other growth. You want to make sure that you read the instructions on how much you should use. When you refresh the water each month, add these tabs and you should be good to go.
Don't Let the Water in Your Garden Fountain Run Out: You do not want the fountain to go dry or get low on water. This could burn out the pump that moves the water; so make sure to keep an eye on the water level at all times.
Only Use Chlorine When Needed: The pumps inside fountains are only designed to work with small amount of chlorine, but if you find that you have a lot of algae build-up, then add a quart of chlorine to every 5 gallons of water that goes through the fountain and then run it overnight. You want to give it enough time to circulate throughout the entire system and remove the growth.
If you do not have a water fountain yet, consider having a beautiful one installed in your yard. Here at Architectural Landscape Design, we are a MN landscape design company that is able to provide you with many different choices in water features for your yard. Check out our Pinterest page on Water Elements to learn more.  And then give us a call for a free design consultation – we've got lots of options to add the beauty and soothing sounds of water to your yard.  952.292.7717.