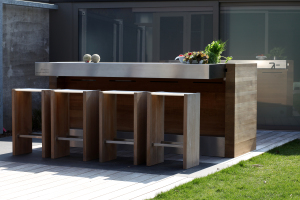 One of the biggest features people are adding to their homes around the Minneapolis area is an outdoor living space such as a kitchen or entertainment area.  There are so many different options, but deciding what features you want in your backyard shouldn't be a hard thing to do. It should be something that stands out and speaks to you and your guests. Maybe you want a private getaway, an escape from the rest of the world, but the weather is nice so you don't want to be indoors. You can perk up the look and feel of your home when you consider adding the perfect backyard bar to the mix.
Step One:  Consider the Space Available

The space that you have to work with means a lot. You have to determine how much room you have, and how much space you want to put in the backyard bar area. When you determine the certain amount of space to work with, you can then decide what you want to place in that area.
What Do You Want Your Backyard Bar?

Next consider the things that your ideal backyard bar would have. You might want an awning, canopy, or pergola to shade those having drinks, sitting for four, a bar area and of course, the back of the bar. You want to show off the ability to have a good time but also have the tools and space to work.  Keep in mind that if you want a cooler or mini-fridge in the back of the bar, you will need to have your space either close to an electrical outlet or in an area where an electrical line can be installed.
Some bars have a grill area in the back, as well as televisions and other high tech gadgets that you can use.  Others choose to install a bar right next to the swimming pool or spa (some even incorporate bar stools in the pool – check out our Pinterest Pool & Spa Ideas board for some swim-up bar photos).  Another popular setup is a bar with a fire table.  And don't forget the lighting – you'll want to be able to use your outdoor bar day or night, so the right outdoor lighting is essential.
What you add will depend on the space and outlets that you have to work with.  Unless you've got a gigantic property with a wide-open area that you can devote to your outdoor bar, you will find that you can fit only so much within it so you have to choose wisely.  Try to go with a bar space that suits the needs that you have and the looks that you want. With the right mix of both, you can ensure that the space will be used often.
If you're stuck getting going with designing an outdoor bar, give us a call here at Architectural Landscape Design. We are more than happy to come out and help you plan the best backyard bar area anyone has ever seen. We are a MN landscaping company that provides the help needed for really making that backyard space stand out. You can make your backyard the ideal vacation destination you've always wanted to visit.
Call us today to schedule a free initial in-home design consultation!  We offer landscape design and installation in the Minneapolis and St. Paul metro area as well as greater Minnesota and western Wisconsin.