If you read Part 1 of this post, you're already aware of the need to give your yard some attention before winter.  In that post we addressed pruning, but here are other things that should be done before it gets cold.
When it comes to your landscape and the colder months, you should make sure that your flowers are protected thoroughly. You want them to bloom come the warmer months next spring, so use these helpful tips to ensure that your yard is looking the best that it can.
Maintenance for Long-Flowering Plants
S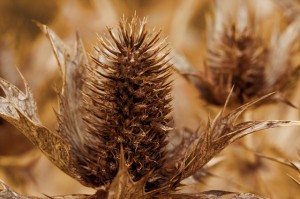 uch as roses should be tended to throughout the entire year to ensure that they grow beautifully. You want to make sure that you remove any dead flowers and twigs from the bush. But pruning should wait before dormancy in the winter.  Before this your flowers are sealing and healing themselves before the winter hits.  Wait to cut them back until after the hard freeze.  Note:  Some gardeners elect to leave seed heads and dried berries on the plants to provide winter food for birds; in that case, just make sure you're cutting back dead branches with nothing on them. 
Hybrid Roses
Roses need some protection from winter's cold.  If you choose to go with rose cones, then you need to make sure that heat and other build-up is not going to reach them when the winter hits. Make sure that they have proper ventilation in the top. You can even put rocks on them to weight them down during the winter. Use a dormant spray on them to prevent fungus and disease.
Nikko Blue and Hydrangeas
These need special care for the winter time. They are sensitive to the cold harsh winters throughout Minnesota, so a little extra care should be taken. Cover them with a thick layer of straw, compost, or leaf mulch, around 5 inches or so. Use a rose collar that is made to hold mulch around them to keep it in place and bunched up during the winter months. You shouldn't prune these plants before winter hits, either.
Dormant Sprays for Trees
Treat the trees around your yards with dormant oils to remove any insects from them. You want apply the product once they have become dormant for the colder months. If you're worried about other rodents and animals ruining the trees, consider wrapping them with tree foam to protect the bark around them. You can also use an animal repellent to keep them away from chewing or rubbing on the bark. Make sure to reapply these products as needed, and alternate between products for the best results.
Has caring for your landscaping begun to take up too much of your free time?  Then consider speaking with us about the needs that you have. We are able to help with all of your landscape clean-up and design needs.   We've got low-maintenance landscape solutions as well – we can help you achieve the landscape dreams you've got.  We are currently scheduling free initial design consultations – it's the perfect time to start planning and get a jump on spring.  Call us today – 952.292.7717.  We are a licensed MN landscape design and installation contractor, serving the greater Minneapolis and St. Paul area.