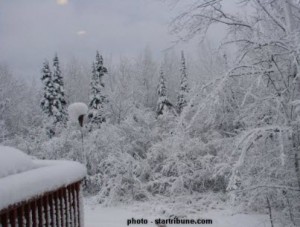 Minnesota is in the middle of one of the most severe winters in the recent past, and even the most sturdy landscaping has suffered across the state. It is not too late, however, to take measures to help protect plantings from additional damage and to begin corrective measures. But it will be a challenge to plan an approach to meet the severity of the threat, so education and experience are key commodities. Here are some factors that must be addressed:
Repeated exposure frost causes plants to grow and shrink. Frost is unique among cold weather precipitation in that it is not porous. Even ice allows sun through, but frost is both transparent (or at best translucent) and brittle. This causes plantings to shrink as the frost accumulates and grow as it dissolves.  If you've got exposed plantings, snow cover can be helpful to reduce frost exposure.
Roots are vulnerable to a lack of snow. Roots are by definition necessary to a plant's health, while leaves and branches can occasionally be lost. Snow provides a layer of insulation that keeps roots warmer than the air. When snow melts or is deficient in periods of low wind chill temperatures, roots can dry out and weaken.
Chemical treatments are only temporarily helpful. Rock salt helps snow and ice to dissolve, which is useful for roads, but inevitably the material spreads to plants and trees. The additional chemicals (as well as the salt itself) are directly harmful to the natural cycles of nourishment that plants rely on.
Animals are forced to prey upon plants more extensively. When usual and typical sources of food begin to dwindle in the winter, animals become more competitive for whatever food remains. This is also a direct threat to plant survival.  (Watch out for signs of rodent gnawing, and protect tree trunks with hardware cloth or other wrappings if possible.)
Our Minneapolis landscape design specialists understand the nature of these winter problems in depth. Assessing the condition of your landscaping quickly—now and after the winter passes—will be important to take actions in time to minimize any winter damage to your landscape plantings such as trees, shrubs, and perennials.  We can help you ensure your yard and gardens will recover from this year's Minnesota 'polar vortex,' as well as be well-fortified to withstand whatever Mother Nature throws at us next winter.  Give us a call at (952) 292-7717 and we'll be happy to discuss a winter-recovery plan for your yard.  We offer distinctive landscape design for home and business owners in the greater Minneapolis and St. Paul MN metro area.