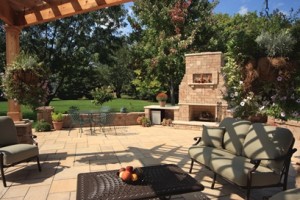 Now that it's warmer here in the Twin Cities, life has moved outdoors.  There are many different directions outdoor rooms can take.  With this in mind, you have to think about the different ways that you're able to organize and set up the space, depending on what you intend to use the area for.   Outdoor living spaces can be subtle or extravagant, depending on your preferences.   A landscape designer can discuss your ideas with you and then make suggestions for what would best fill the bill.  Here are some of the most popular trends.
Entertaining Outdoors

If you want to use the space for entertaining, there are many things that can be added to your outdoor rooms, including televisions or surround sounds. Cooking areas are also big when it comes to entertaining, as well as comfortable seating and plenty of it. Fire pits in the backyard can make the mood, and it also means that you could do so much more than sit and enjoy your coffee. With an outdoor room, you're basically moving your living room (or dining room or kitchen) to the outdoors, but it has to be done right so it looks good and works well. You want to keep wind and sun in mind when it comes to creating this space. Have plenty of shaded areas and perhaps a little wall to block out the wind.
Greenery
Not every space outside is suitable to grow plants in, but if this is something that you want to do with your space then think about some major influences that might impact your garden. You want a space where the plants that you're growing are going to thrive.  A MN landscape designer can suggest plants that work the best in your particular area.   Garden beds, raised beds, and container plantings boost the aesthetics of the outdoor area.
Serene Water Features

Adding water to any landscape can make the atmosphere peaceful and tranquil. You can bring a book out and sit on a comfortable seat in the backyard while listing to the water. There are also many choices such as a small brook or a waterfall put right into the surrounding areas. Splash pools, spas and in-ground pools are also popular, and they provide avenues for entertainment.  Water in general is one of the biggest landscape trends today.
Your landscape design should be unique, even if you want to incorporate some current trends.  ALD specializes in turning landscape dreams into reality.  If you've got some ideas floating around in your head that you'd like implemented, give us a call.