Here in Minnesota fishing is a popular pastime.  But not all of us have the time to get away to a fishing hole, so why not add a fish feature to your own yard?  And instead of catching fish for dinner, you'll be catching compliments and relaxation.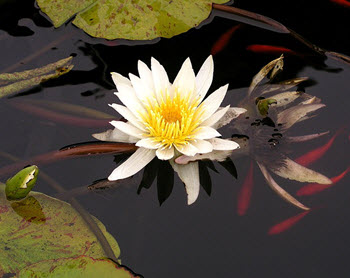 One of the biggest and most beautiful way to enhance your landscape is by adding a koi pond. Not only that, but through the use of a koi pond, you might be able to save cash on watering the vegetation throughout your yard. They are soothing and even provide more for you to look at while in the yard. By working with a landscape designer, you can find out if your yard has an appropriate spot for a koi pond.
Benefits of a Koi Pond
Not only does a koi pond reduce stress levels in everyone that lives in the home, but its nutrient-rich wter can be used for the surrounding vegetation in the yard. Having a koi pond can increase the resale value of the home, while also boosting the curb appeal and the features that your home comes with. Finally, water from the koi pond can be used in place of chemical fertilizer for a more natural plant food for your flower beds and container pots.
How a Landscape Professional Can Design the Pond For You
A professional landscape designer can help you plan and install the ideal koi pond for your unique landscaping situation. The first step is to do a survey of the land to figure out how large the pond is able to be and the best place to locate it. Not only that, but they will also learn more about the quality of the soil, depth and whether or not there is enough room for the plumbing and electricity that may be needed to keep the pond in good health.  They will use their findings along with your ideas for how you'd like it to look to design the ideal koi pond for your yard.
If it's time for a beautiful relaxing water feature, why not call us today to talk about adding a koi pond to your yard. This can be a beautiful addition to any yard throughout MN, and we can help you make it happen. Check out our Pinterest koi pond board for some koi pond ideas, and keep these backyard pond basics in mind, as well.
We are a licensed MN landscaping contractor, and among our services we design and install water features such as koi ponds.