It is well understood that adding a deck to your home can be a lovely way to create beauty on your property and functionality to your yard. Adding a deck is a great place to start, but think of the deck as just the foundation for an outdoor space.  For those in the Minneapolis St. Paul area who already have a deck but would like to add elements to refresh it, this post from ThisOldHouse.com has some terrific ideas.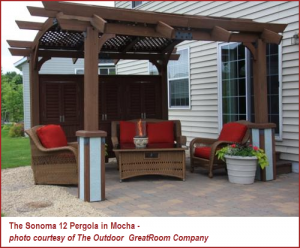 This article provides a great deal of helpful information for those looking to spice up their deck design with something new and refreshing. For example there is great advice on staining your deck, adding a checkerboard pattern painted floor, installing lattice or a 'green wall' for privacy, or as well as adding a pergola for the purpose of creating a shield against sunlight rays that threaten to make your summer days a little too sunny.   After all, if you've got an unshaded deck, you probably avoid using it in sunny or hot weather, other than for sunbathing. 
Adding a pergola or other shading structure such as a canopy to your deck means you're more likely to use that inviting space to relax outdoors without getting overheated.  And pergolas work well to provide spots on patios and pool decks as well.

As a landscape design and installation contractor specializing in outdoor rooms, we heartily encourage homeowners around the Twin Cities to get out in their yards and enjoy the summer weather.  Having spots like decks and patios covered by pergolas makes that easier and more inviting.  Among other landscaping features we install, we are proud to offer pergolas from the Outdoor GreatRoom Company.   If you're dreaming of a relaxing spot right in your own yard, a pergola is a terrific solution.   To fuel your imagination, check out our Pinterest Perfect Pergolas board.   Then give us a call for a free design consultation.  If you see something you like, we can work with you to turn those visions into reality.  952.292.7717.